Honorees
The following articles and information represent Tank Destroyer personnel not in 6th TD Group but some other TD Unit. If you are the friend or family of a soldier who served in a Tank Destroyer Group or Battalion, please contact me. If you have a photo of that person, old or new or both, and some information about their unit and their life before and after the war, I would be happy to post that information for you to honor them. You can reach me by using the Contact link at the top of the page.

People -
Honorees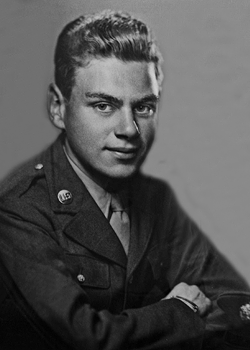 Roy G. Colson
Biography: Roy Gerald Colson was born in Brooklyn, NY on May 10, 1926. He attended grammar school and then Erasmus High School in Brooklyn, graduating in January of 1944.
Service Time: In March of 1944, Roy enlisted in ASTPR (Army Specialized Training Program Reserve) because he was still underage. The ASTP was an Army training program, which sent active duty men to college to study mainly medicine and engineering. Because of his age, Roy was to spend one semester on the reserve before being put on active duty in the ASTP. He was sent to Cornell University located in NY but as his first semester ended, D-Day came and the progam was cancelled. Roy was put on active duty and sent to Camp Hood, TX for basic TD training. After completing basic, he was sent to Fort George Meade in Maryland, which was a staging area for troops shipping to the E.T.O. On January 31, 1945, Roy sailed from New York on the USS Wakefield and arrived in Liverpool on February 8th. He traveled to Southampton by train and then crossed the channel to Le Harve, France.
From there it was on to Charleroi, Belgium in a 40 & 8 boxcar. They were known by this designation because the number 40 over an 8 was stenciled on the boxcar and identifying that it could carry 40 men or 8 horses. They stayed at Charleroi for several days before going on to Metz, France. On March 11, he arrived at Trier, Germany and joined First Platoon, Recon. Company of the 609th Tank Destroyer Battalion. Roy was given a jeep with a driver, a radio, maps and a 30 cal. machine gun.
From Trier they made their way to Worms on the Rhine. The 609th was attached to the 10th Armored Division but at this point the whole division was moved from 3rd Army to 7th Army. The 609th crossed the Rhine and headed south to Mannheim, Heidelberg and about April 8th they reached Crailsheim, Germany, where he recalls there was heavy fighting. On April 12th, they found themselves at Ohringen, Germany, which was a difficult time for the unit. They had many casualties there, including SSgt. Orville Estes, who was killed by an SS Trooper hiding in a building with a Burp gun. Estes was Roy's Platoon Sergeant and very good friend. T/5 Cecil Duncan was also wounded there along with a number of other soldiers from the unit. The date of the 12th differs from what's recorded in the Unit History written by Company Commander, Albert Arenholz's history. His record states that it was the 20th but a Death Record from an alternate source confirms that it was indeed on the 12th.
The unit continued heading south, and on the morning of April 21, Roy got very sick with a fever of 104 degrees. He was sent by ambulance to an air-evac hospital where he stayed for several days. He was then flown to the 9th General Hospital in Rheims, France. While still in the hospital, VE Day (May 6, 1945) came and passed and Roy was finally discharged from the hospital. He spent several days in Paris with a guy from the 3rd Infantry who he had met in the hospital. They had a unforgettable time there now that the weight of the war was lifted. Roy then traveled to Worms by train and then to Kochel in Bavaria, where he rejoined his outfit.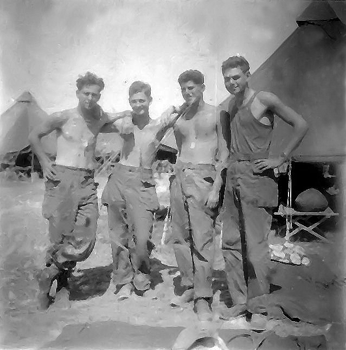 After a short stay in Kochel, they were re-equipped with supplies and equipment and went to Camp Atlanta in France, arriving in late July or early August. There were five men that shipped over to join the 609th but only the four shown returned. L to R are Stan Butler, Perry Blumstein, a name he can't remember and Roy. Joe Hurkowitz was the friend that was KIA.

The 609th was scheduled to be redeployed to the Pacific, so they went to Camp Lucky Strike in Le Harve and shipped out on August 30 for New York, aboard a Victory ship. They arrived a week later on September 7. The war in the Pacific ended, which also ended their plan of redeployment. They were sent to Camp Breckenridge, KY where the 609th was eventually disbanded. Those without enough points for discharge ended up in the 656th Tank Destroyer Bn at Camp Campbell, KY. Roy was finally discharged on April 25, 1946 at Fort Dix, NJ at the rank of Technician 5th Grade.

Roy received credit for both the Central Europe and Rhineland campaigns and also received the American Campaign Medal, EAME Medal, World War II Victory Medal and the Good Conduct Medal. Although offered the Purple Heart for some minor wounds he received, Roy refused it believing that taking it for these superficial wounds would only cause him to really earn it later. He felt serving our country during that terrible time was one of the most important things he ever did. Roy related to me that he did his job to the best of his abilities and never shirked his responsibilities. Although he doesn't feel like a hero, in my book he and all these men are heroes.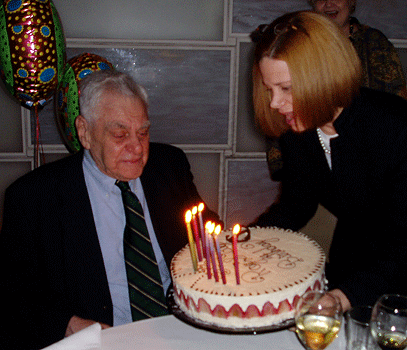 When Roy returned to civilian life, he attended Syracuse University in New York and graduated in 1949. In 1954, he married Pat and together they would have one child, Nancy. You can see Roy and his daughter in the photo to the left. The occasion was his 80th birthday.
Roy worked at several different jobs before starting his own business in 1960, in which he is still active.
I want to thank Roy for providing this information and the photos. I also want to thank him for his service to this country and wish him long life and good health.
Last Updated on Friday, 10 February 2012 06:47
People - Honorees

James J. Coniglio

Biography: James J. Coniglio was born in 1920 in Brooklyn, NY, the son of immigrant parents. In 1938 he graduated high school and joined the Army National Guard.

Service Time: When the National Guard was federalized in 1939, James was inducted into the United States Army. He was stationed at Camp Shelby, Hattiesburg, Mississippi, where he was promoted to the rank of Sergeant in Company A, 802nd tank destroyer battalion. He was one of the youngest sergeants in the army at the time. His duties included training young recruits.

In May 1944 he and his battalion were sent to England to prepare for the invasion of Europe. Six days after D-Day he entered the European Theater at Normandy where he saw his first action. He was awarded the Bronze Star and given a field commission to the rank of 2nd

lieutenant.




James returned home to Merrick, Long Island where he pursued a career as a draftsman. In 1949 he moved to Los Angeles where he met Theresa, they were married in 1950 and raised seven children. They made their home in the San Fernando Valley and were active members of St. Charles Catholic Church.




In 1997 James was diagnosed with Parkinson's disease which slowly took his life away. He passed away in January 2009.

James' son John produced an incredible video tribute to the life of his father which can be found on YouTube. The following are links to the two sections of the video.

I want to thank John for providing this information and photo.

Last Updated on Wednesday, 28 December 2011 08:37

People - Honorees

Charles E. Conn

Biography: Charles Edward Conn was born on January 28, 1920 in Sutton, Nebraska. He is the son of Samuel Conn and Edna Smith and attended the Dorner School in Montana. He left school and found work in farming, as a mechanic and in mining.

Service Time: Charles entered the service on April 16, 1942 at Missoula, MT and was assigned to the HQ Company, 6th Tank Destroyer Group. On May 8, 1943, he married the former Mary Ann Maki, who was the daughter of Charles Maki and Mary Amanda Mattson. Mary Ann had been born in Neihart, MT.

He trained with the 6th TD Group at the Desert Training Center at Camp Ibis, which is near Needles, CA. His new wife would accompany him there. They would travel to Camp Maxey, Texas before moving to Camp Kilmer, NJ and final staging before boarding the Aquitania bound for Scotland. They landed in Scotland in early February of 1944 and moved to the South of England to assist in preparations for the D-Day landings. The unit landed at Normandy and took part in "Task Force A" and actions on the Brittany Peninsula after the breakout at Avranches. He signed his name on a pair of wooden shoes, dated August 1944 while the unit was still in France. August of 1944 was also the birthdate of his first child.

At some later date, he transferred from the 6th into the 1st Tank Destroyer Brigade, which the 6th had served under during the Brittany campaign. He would continue with them, receiving credit for campaigns in Normandy, Northern France, Rhineland and Central Europe. He received the Good Conduct Medal, a Bronze Star, the European-African Middle Eastern Service Medal and the American Theater Service Medal. He shipped home, landing on October 18, 1945 and left the service 10 days later at the rank of Technician 4th Grade.

When Charles returned to the states, he and wife Mary Ann would make their residence in Fort Benton, MT and he found work as a mechanic. He later started farming, in which he stayed until retiring in 1989. The couple had three children, Betty born in 1944, Billie born in 1947 and Lynda born in 1948.

In his spare time, Charles played drums in a three-piece band doing mainly polkas and Scottish music. He enjoyed woodworking and built many projects, including a grandfather's clock and baby cradle. He also designed clocks and did clock repair. His other passion was for restoring automobiles, three of his projects were a 1949 Ford, a 1967 Volkswagen and a 1953 Chevy Bel Air.

Charles is also a member of the Elks, Eagles, IOOF (Independent Order of Odd Fellows) and the Moose Lodge.

I want to thank Charles for his service to this country and wish him long life and good health. I want to thank Charles' daughter Betty for providing this information and photo of her parents.

Last Updated on Monday, 15 August 2011 15:34

People - Honorees

Lee W. Conor

Biography: Lee Wilson Conor, "Jack", was born on February 22, 1925, in Kalamazoo, Michigan. He was the son of Leo John Conor and Helen Wilson and graduated from Galesburg, MI, High School.


Service Time: Jack entered the service in 1942 and was assigned to the 636th Tank Destroyer Battalion as part of their Medical Detachment. He served with them in North Africa and then in Italy. On August 15, 1944, the unit landed in France and proceded to the Moselle River and then into Germany and Strasbourg. It was during this period that Jack was wounded in the hand and spent an extended period of time in a hospital in France. His spirits were very low but he was greatly encouraged when a friend from his hometown ended up in the same hospital. Copies of their hometown newspaper, shared by the friend, were read over and over again. Jack received two Purple Hearts and reached the rank of Technician 3rd Grade by the end of the war.












































































On May 22, 1946, Jack re-enlisted and continued to serve in Germany. He met his future wife, Magdalena "Leni" Boeber and her two daughters, Eva and Edda, while there and on March 17, 1949, they were married. He was assigned to the Constabulary Forces, which continued to provide law enforcement long after the war was over. On June 13, 1949, Jack moved the family back to the U.S. and Galesburg, MI.

Jack remained in the service and was sent to Korea, serving in a M.A.S.H. (Mobile Army Surgical Hospital) unit. After the Korean War, he continued in the Reserves and ultimately achieved the rank of Master Sergeant.





The couple had three more children, Terry, born in 1952, Lora Lee in 1959, and Tami Lee in 1961. Jack worked in manufacturing at the Eaton Corporation and retired from there in 1986 after 28 years. He and Leni moved to Ft. Myers, Florida, for their golden years. In addition to spending time with his family, Jack enjoyed gardening and reading. He passed away on October 19, 2013, and was buried in the Ft. Custer Military Cemetery in Galesburg, MI.

I want to thank Jack's sister, Pat, for her assistance with this article. She wrote a short story about Jack's WWII time in the hospital, which I have included with this tribute.

The Christmas Troop Trains - by Pat Hodapp


Last Updated on Sunday, 17 November 2013 11:19

People - Honorees

Garland B. Cook

Biography: Garland Buster Cook was born on January 12, 1915, in Wilmington, North Carolina. He was the son of Grady Cook and attended local schools, completing the 9th grade. After leaving school, he worked as a pipe-fitter but his original enlistment record also mentions that he worked as a chauffeur.


Service Time: Garland enlisted in the Army on June 29, 1938 at Fort George G. Meade, Maryland. He was assigned to Company C of the 93rd Infantry Battalion.

Promotion to Corporal - March 13, 1940

Promotion to Sergeant - Feb. 10, 1941

He was Honorably Discharged on June 28th, 1941 at Fort Meade after serving 3 years. He reached the rank of Sergeant and was a Platoon Leader for the unit.


Honorable Discharge - June 29, 1941


Garland re-enlisted that day and was placed back into the 93rd Infantry to continue his service. It was from that same group of men that the Anti-Tank Battalion was created and was later re-designated as the 893rd Tank Destroyer Battalion. His set himself apart not only as a leader but by excelling at individual firearms skills. He received an Expert Qualification for Pistol, Rifle and .50 Cal. Machine Gun. It was only with the Carbine that he earned the slightly lower rating of Sharpshooter. Garland continued as a Platoon leader with responsibilities over a number of TDs, shipping out with the unit on January 9, 1944, and landing in the E.T.O., on the 20th. He received credit for three of the unit's campaigns, Normandy, Northern France and Rhineland and sustained wounds on three separate occasions, on Sep. 17th, 1944, while in Belgium, and on both Nov. 6th and 7th, 1944 while in Germany. It was these last wounds that would ultimately send him home and permanently disable him. He spent over a year in hospitals before finally being discharged from the service at Ashford General Hospital in West Virginia on November 24, 1945. He earned a Bronze Star, the World War II Victory Medal, the American Defense Medal, the American Campaign Medal, the Good Conduct Medal and the Purple Heart with Oak Leaf Cluster.

Honorable Discharge - November 24, 1945

Garland went on to lead a productive life in spite of the fact that he had no use of one arm. In 1953, he married the former Margarete Elizabeth Neal (seen in the photo below on left) who was the daughter of Sydney Josey Neal and Alma Williams of Lancaster, SC. The new couple made their residence in Wilmington, NC and together they would have three children, Charles Thomas born in 1954, Darlene born in 1958 and Garland Neal born in 1966. In his spare time, Garland enjoyed playing golf.







Garland passed away on April 2, 1977 and was buried at the National Cemetery in Wilmington, NC. I want to thank his son Garland Neal Cook for the information and photos of his father.


Last Updated on Thursday, 19 January 2012 19:29
<< Start < Prev 11

12

13 14 15 16 17 18 19 20 Next > End >>


Page 12 of 73