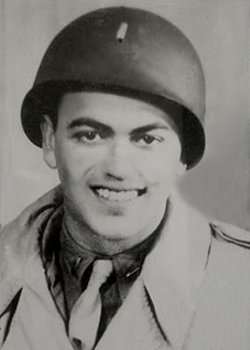 Basil Antonelli
Biography: Basil Antonelli was born on December 16, 1920, in San Andrea, Italy. He was the oldest of five children (three sisters, one brother) born to Angelo Antonelli and Lucia DiFante. The family moved to the United States when Basil was still young, making their residence in Downstown, New Jersey. He attended Vineland High School and spent the summer of 1939 receiving training as part of the CMTC (Citizens' Military Training Camp) at Fort Dix, NJ. He was appointed Cadet Corporal of Company A by C.H. Rice, Colonel, 16th Infantry, on July 11.
Service Time: Basil entered the service on September 16, 1940, as part of the New Jersey National Guard, and was placed in the 157th Field Artillery Battalion. He was recommended for Officer Candidate School by Lt. Col. Andrew Lotti, his commanding officer, and in a letter written on March 28, 1942, he tells his parents about the opportunity and asks for their help with getting references from their Priest, Charles Riddle, and a Senator Stanger. Basil graduated from the Field Artillery OCS at Fort Sill, Oklahoma, on Sept. 22, 1942, as part of Class 31-42. He volunteered for the Tank Destroyers and was assigned to the 805th Tank Destroyer Battalion.
Basil shipped out with the 805th, arriving in England on August 18, 1942. The unit landed at Algiers in North Africa on January 17, 1943. Basil was wounded when a torpedo destroyed the landing craft he was commanding. Despite his wounds, he stayed on the craft until all the men aboard had been safely rescued. He received a Purple Heart for the wound and rejoined his outfit for actions at Kasserine Pass and Gafsa with M3 Tank Destroyers. They converted to a towed 3-inch gun battalion in October, 1943, and soon shipped to Italy, arriving on October 28, 1943, at Bagnoli.
On February 6, 1944, Basil was killed when the command bunker he was in received a direct hit from a shell. The location was near Cervaro, Italy, which is near Cassino. Cassino was very near to where Basil was born and he visited his grandmother at her home the day before he was killed. Initially, he was buried in the US Military Cemetery in Marsanello Nuovo, Italy, about 19 miles southeast of Cassino, but he was later re-interred at a cemetery in Vineland, NJ. Years later, his parents were buried next to him. At the time of his death, he was engaged to be married but his fiancee was so devastated that she never married.
Jersey Officer Killed Article 1 - Philadelphia Evening Bulletin, Feb. 28, 1944
Downstown Officer Killed Article 2 - Unknown publication
Unit History February 1944 - Includes official account of Lt. Antonelli's Death
*********************************NOTICE********************************
A new book "The American: The Life, Times, and War of Basil Antonelli", was written by Dan Roberts of the Wilson History and Research Center. The book chronicles Basil Antonelli of the 805th Tank Destoyer Battalion. The book can be ordered directly from the author for $22.00, which includes shipping. You can contact him directly at This email address is being protected from spambots. You need JavaScript enabled to view it..
***********************************************************************