Bateman, Myron E. (640th)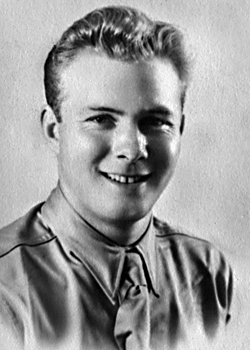 Myron E. Bateman
Biography: Myron Ermin Bateman was born on June 19, 1920, in Arroyo Grande, California. He was the son of Merrill Carl Bateman and Louise Petersen and attended local schools through the 11th grade. After leaving school, he worked at a poultry warehouse.
Service Time: Myron entered the service on October 7, 1941, at Los Angeles, CA, and after his initial training, was assigned to the 640th Tank Destroyer Battalion. They shipped out from the San Francisco port on September 4, 1942, en route to Hawaii. They arrived at Guadalcanal on February 5, 1944, and then shipped out to New Britain on May 3, 1944. They finally arrived in the Philippines, on January 9, 1945. The unit received credit for the campaigns of the Bismarck Archipelago, the Eastern Mandates, Luzon and the Southern Philippines.
Myron was awarded the Bronze Star, which he never felt he deserved. He related to his family that he was driving a jeep with some "General" in it when they came to a field marked for landmines. He got himself and the General through without a hitch, which he always felt was more luck than anything worth a medal.
Myron left the service at the rank of Technician 5th Grade, on July 10, 1945, at Camp Beale, California.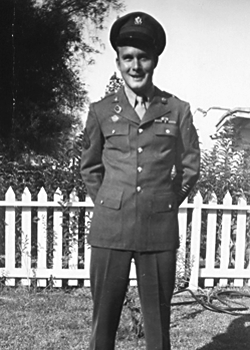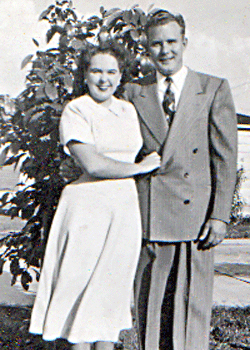 He initially made his residence in South Gate, CA. On October 31, 1948, he married the former Frances Triplett who was born in Pittsburgh, Pennsylvania, and was the daughter of Frank Triplett and Katherine Boyd. Myron met his future wife at a dance club. She told him she would go out with him if he could dance. Since he was quite intoxicated, she wasn't too concerned about any future dates. Surprisingly, he could dance and was quite good at it. From then on, they were regulars out on the dance floor doing ballroom-type dancing, including the swing.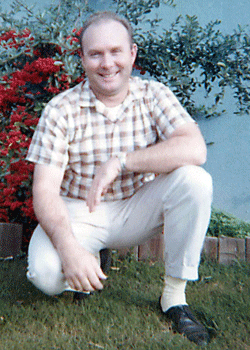 The couple had two children, a son Daniel and a daughter Debra. In 1954, the family moved to Whittier, CA. Myron worked as an office machine technician for a subsidiary of the Singer Company. In his spare time, he enjoyed fishing and camping and also CB (Citizen's Band) radio. His CB handle/name was "Tool Kit" and he was a member of the Whittier CB Radio Club.
He earned his handle or nickname because he could fix just about everything. He always had an interest in helicopters and built a working gyrocopter. He used a lawnmower engine and made huge wooden blades for it. The family towed it behind their car and took it out to the El Mirage Dry Lake in California. It had two seats and he would take the kids up in it. He also built a battery operated helicopter model that was on the end of a stiff wire. The wire would keep it in the air but the rotating blades made it go wherever your arms would allow it. Although he didn't get to see either of his children get married, his interest in helicopters was somehow passed down to his grandson who is now an Army CH47 Helicopter pilot.
Myron was known as the nicest guy you would ever meet by all who knew him. He loved to make people laugh and was quite a jokester. His daughter fondly remembers the funny faces he would make. Myron passed away on June 24, 1975, and was buried in the Rose Hills Cemetery, Whittier, CA. He and Frances were happily married for 27 years.

I want to thank Myron's daughter, Debbie, for providing the information and photos for this tribute. I also want to thank RHare for providing the grave marker photo.