Campbell, Waldo T. (6th Grp)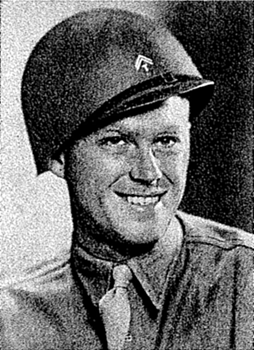 Waldo T. Campbell
Biography: Waldo "Walt" T. Campbell was born in Barberton, Ohio, in 1923 and lived in Akron, OH, which is in Summit County.
Service Time: He was inducted into the Army in 1942 in Akron, OH.
Although Walt ended up in the 6th Tank Destroyer Group, he was originally part of Company "C" of the 4th Signal Battalion and is pictured in their history. The 4th Signal Battalion was attached to the XIII Corps (9th Army) throughout their time in Europe. The 6th TD Group was also attached to the XIII Corps at the end of the war. It was probably during this period that he was transferred. He achieved the rank of T5 and received the Meritorious Unit Award, the American Campaign Medal, the World War II Victory Medal and the European-African-Middle Eastern Campaign Medal - w/2 Campaign Stars (Rhineland and Central Europe)
He married Jean D. Butcher who was the daughter of R.W. "Bud" Daniels and Cleona Mae Butcher Daniels and was born in Beverly, OH on March 29, 1929. She was a homemaker and had one son from a previous relationship. She preceded Walt in death on August 7, 2002.
Walt retired in 1986 from the Ohio Carpenters Union, AFL-CIO Local 639, and was a l
ife member of VFW Post 3383, Akron, OH, and Knights of Columbus. He enjoyed golfing in his free time. He passed away on December 30, 2003 and is survived
by 4 daughters and 2 sons. He is buried at Ohio Western Reserve National Cemetery in Rittman, OH.
I want to thank Walt's family for providing the information for this biography as well as the unit history of the 4th Signal Battalion, available below in PDF format.