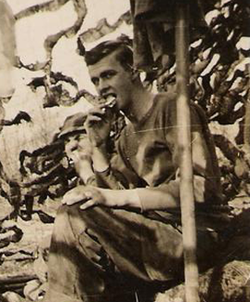 Glenn W. Coup
Biography: Glenn was born on Feb 5, 1921, in Old Lycoming Township, Pennsylvania, where he attended Williamsport High School and graduated in 1940. Prior to the war, he worked at the Avco plant, now known as Textron Lycoming, as a machinist. While there, he worked on the R-680 engine, which was used on Navy trainer planes.
Service Time: He entered into active service on March 31st, 1944, but early in his service time, he was given 2 to 6 month furloughs to permit him to work at the Avco plant until a replacement machinist could be found. At some point during the war, Glenn joined the 6th TD Group and was eventually be stationed with them at the Dachau Concentration Camp in Germany. He left the sevice at Fort Dix, New Jersey, on May 22, 1946.
After the war, he returned home and married Anna Horn Null. Together they had 3 boys and a girl with an additional daughter from Anna's first marriage.
During his life and into his later years, he enjoyed both gardening and woodworking. He passed away on May 12, 1993.
Research: I found out about Glenn through his grandson, Sam Coup. Sam's MySpace page had some information about his grandfather, some photos and his unit listed as the the 6th TD Group. One of the photos shows him with two other men at the Dachau camp. Glenn is standing on the right. Sam's efforts to honor his grandfather are admirable. He also provided the information written above.