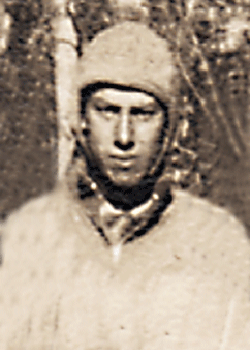 Tomas Cortez
Biography: Tomas Cortez was born in Santa Paula, California in about 1922. He is the son of Fransisco Cortez and Benita Mendoza and attended school at Santa Paula Elementary. Tomas worked providing farm labor and in the packing houses. He also worked at NSA (Naval Air Station) Moffit Field.
Service Time: Tomas entered the service and was assigned to Company A of the 821st Tank Destroyer Battalion. The 821st received credit for four campaigns including Normandy, Northern France, Rhineland and Central Europe. They landed at Omaha Beach and supported the capture of St Lo before moving west and supporting the capture of Brest, France. At the time, they were attached to the 29th Infantry Division. In September, they turned east into Holland.
The unit then saw action at the Siegfried Line, near Aachen, and supported the drive to the Roer River, before converting to M10s and moving, to the Elbe River. Tomas was wounded by friendly fire near Maastricht, Holland, and returned home on the Queen Mary. He spent some time in a rehabilitation hospital in New York, before returning home to San Jose. Tomas left the service at that rank of Pfc.
Tomas went back to work at the packing houses and then NAS Moffit Field, where he worked for 30 years. On October 30, 1949, he married Aurelia Quihius who was born in San Jose, CA. The couple had two children, Sophia and Darrell. In his spare time, although limited now due to his health, Tomas enjoys carpentry, handyman projects and dancing. He is a member of the American Legion, Clifford Rodriguez Post 809, in San Jose, where he served as Post Commander for many years. He is also a member of the NARF and the Amvets.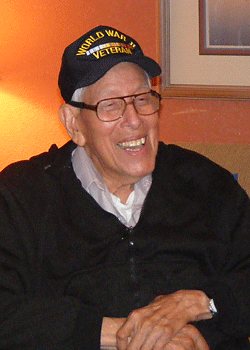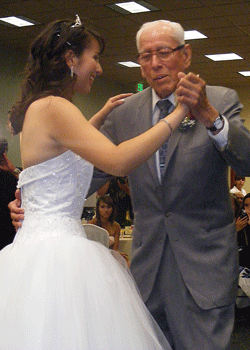 Tomas and Aurelia celebrated their 60th Anniversary before she passed away in 2009. The photo on the right shows Tomas enjoying two of his favorite things, dancing and his family. The girl shown is his granddaughter who was celebrating her 15th birthday.
I want to thank Tomas for his service in WWII and wish him long life and happiness. I want to thank his son, Darrell, for providing the information and photos for this tribute.