Croswhite, Donald C. (Unknown)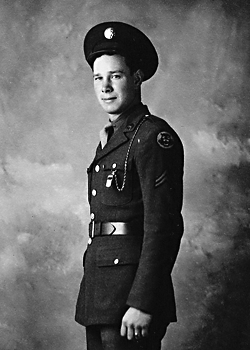 Donald C. Croswhite
Biography: Donald Clayward Croswhite was born on December 21, 1922, in Lamar, Prowers County, Colorado. He was the son of Roy Lee Croswhite and Laila Estelle Stapleton and attended local schools through the 12th grade. He then worked as a machinist helper.
Service Time: Donald entered the service on January 20, 1943, at the Jefferson Barracks in Lemay, Missouri. After his initial training, he received specialty training as an anti-tank gun crewman. He also successfully completed a two-month "Enlisted Weapons Course" designed by the Tank Destroyer School. The course went from December 13, 1943, to February 4, 1944, and at the time, he is listed at the rank of Corporal.

Donald was assigned to a tank destroyer unit but it is unclear which one. He shipped out from the U.S. for service in the South Pacific on March 10, 1944. This date matches the date that the 815th Tank Destroyer Battalion shipped out from the San Francisco port.
The 815th was equipped with 3" towed guns and landed in New Guinea on March 30th. On September 27th of that same year, the unit was disbanded and its members were assigned to other units. At some point, Donald was transferred to Company H, 127th Infantry Regiment of the 32nd Infantry Division and on January 14, 1945, he received the Combat Infantryman Badge, denoting that he had been involved in active ground combat.
On February 10, 1945, Donald was wounded and received medical treatment at the 41st Field Hospital, which was located on the Island of Biak in New Guinea. He was eventually sent home on April 24, arriving back in the U.S. on April 26th. Donald received credit for participation in the campaigns of the Philippine Islands, the Southern Philippines, and Luzon. His discharge mentions that he received four campaign stars but does not list a fourth campaign. He may have participated in the New Guinea Campaign with the 815th and not received proper credit for it. He also received the American Theater, Asiatic-Pacific, the WWII Victory and the Good Conduct Medals. He left the service at the rank of Sergeant, on November 12, 1945, at the Camp Fannin, Texas, Separation Center.
In 1945, Donald married the former Mary Anna Hicks who was born in Boone, Missouri, and was the daughter of Robert Hicks and Lena Christine Moberg. The couple made their residence in Bentonville, Arkansas. They had one son, Donald Jr., born in 1946.
Donald passed away on April 14, 2011, and was buried in the Bentonville Cemetery located in Bentonville, AR. I want to thank Donald's grandson, also named Donald, for providing the information and photo of his grandfather. The grave marker photo was provided courtesy of Anita Mays.