Dunne, William J. (609th)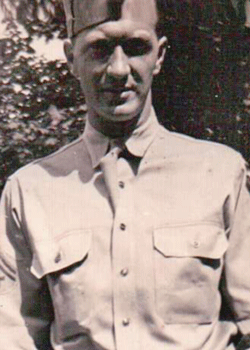 William J. Dunne
Biography: William J. "Red" Dunne was born on Sept. 9, 1916, in Brooklyn, New York. He was the son of William Patrick and Loretta Reilly Dunne. Bill attended local schools and completed one year of high school before going to work as an auto mechanic.
Service Time: Bill entered the service on May 26, 1942, and was assigned to Company A of the 609th Tank Destroyer Battalion. The unit joined operations against the Siegfried Line, at Bastogne and along the Sauer River. They were also in the Battle of the Bulge, and participated in the capture of Trier and supported the attack at the Mannheim bridgehead across the Rhine.
When Bill returned from the service he returned to his work as a mechanic and in a machine shop. He lived in Queens, NY and later Tucson, Arizona, and enjoyed gardening in his spare time.
Bill passed away in 1995 and was buried in Tucson.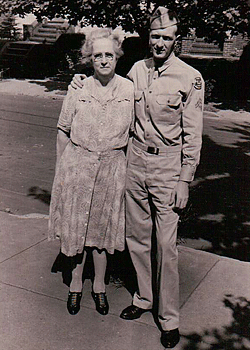 In addition to Bill's service in the Army, four other brothers served during WWII. Charles and Joe in the Army Air Corps, Charles stationed in England and Joe as a gunner on B-29's out of Guam. E dward in A Company of the 310th Infantry Regiment of the 78th Infantry Division and Bernard in the Merchant Marines as a nurse. Edward was the only one that didn't return, he was killed in Belgium at the Remagan Bridgehead.

The photo to the left shows Bill with his mother. I want to thank Bill's nephew, Ed Dunne, for providing this information and photos.