Moriarty, James P. (809th)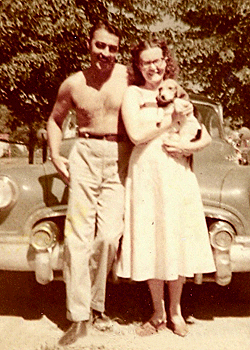 James P. Moriarty
Biography: James P. "Jim" Moriarty was born on July 13, 1914, in Nanty Glo, Pennsylvania. He attended local schools completing the 10th grade. In 1938, he married the former Grace Ann Mann who was also from Nanty Glo. She was the daughter of Roy Ashland Mann and Rachel Grace Dyson.
Service Time: Jim entered the service on February 11, 1942, at Harrisburg, PA and was assigned to Company C of the 809th Tank Destroyer Battalion. The 809th landed in Le Havre, France, in January 1945 with M18s and supported actions at the Roer and Rhine Rivers as well as the Ruhr pocket in April. They converted to M36s in April and helped clear the Harz mountains that same month. Jim left the service at the rank of Sergeant.
After he returned home, the family made their residence in Monroe, Michigan, and Jim worked for the Ford Motor Company in Monroe, and later for Helms Accessories of Detroit, MI. The photo above left shows Jim and wife Grace in 1951.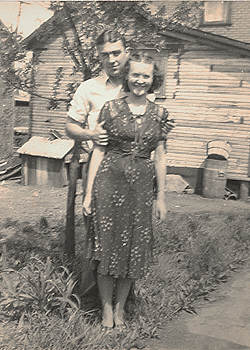 In the photo to the left, you can see Jim and Grace around 1937-38. In his spare time, James enjoyed ornithology, which is the study of birds. James died on October 6, 1956, as a result of a car accident on US-25 a half mile from Monroe. He was buried at the Roselawn Memorial Park Cemetery in Monroe.
I want to thank James' nephew, Randy, for providing this information and photos of his uncle.