Pfeilschifter, Daniel L. (6th Grp)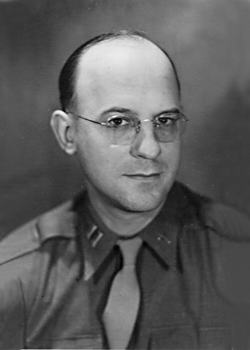 Cpt. Daniel L. Pfeilschifter
Biography: Daniel Leonard Pfeilschifter was born on September 6, 1909 in Cleveland, Cuyahoga County, Ohio. He was one of three sons and two daughters born to Aloysius Pfeilschifter and Elizabeth Raquette. It is known that Revered Pfeilschifter was serving as a Chaplain and Junior Class Religion Teacher at the Notre Dame Academy, Toledo, Ohio, in 1943.

Service Time: After Action Report of May 1945 lists Captain Pfeilschifter as a Chaplain. His status lists him as SD (Special Duty) XIII Corps.
Father Daniel Pfeilschifter passed away on May 22, 1996, and was buried in the Holy Cross and Saint Joseph Cemetery in Indianapolis, Marion County, Indiana.