Qualter, William J. (6th Grp)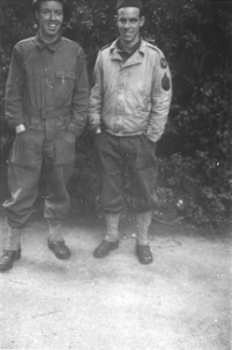 William J. Qualter (shown standing on left):
Biography – William J. "Bill" Qualter was born Jan. 27, 1920 and lived his entire life in the Chicago area. He attended St. Sabina grade school and Leo Catholic High school. Bill had been drafted and his brother enlisted. Bill's induction date was May 7th 1943, which was somewhat later than many of the other men in the unit. His brother had spine problems so he ended up working at the Pullman Aircraft plant.
Service Time: Their father had died in 1940 so off went Bill to Camp McCoy, Wisconsin for basic training. From there he was off to Camp Hood for about three months. He remembered joining the 6thTank Destroyer Group at the same time as Clarence Mitchell and Royal E. Pascoe but only after the desert training in California. He was with them for the Louisiana maneuvers.
He remembered being taken by truck to the south of England and that they had no difficulty landing in France. There were still gliders in the trees and balloons in the air. If you're not familiar with these things, I can tell you that the Horsa gliders were used to quietly land troops in hostile areas and the barrage balloons were intended to stop low flying aircraft from shooting at the men or at least make it more difficult. He had been trained as a radio operator but ended up promoted to Sergeant in the supply section of the unit. He remembered being in Saline Germany at the end of the war as well as being at Dachau. He was only with the unit a short time after the war ended so he didn't have much more information to provide. He did mention a soldier named Blake that spoke German.
After the war, Bill returned to Chicago and began a career as a fireman. He stay a fireman for more than 30 years. During that time, he married a widow with two children, a girl and a boy. Together they had 2 more boys and a daughter. Bill's first wife died around 1991. Bill remarried in 1994 and he and his new wife were together until his death on Dec. 14, 2006.
Research -One of the best memories I have from the many years of research was the day I found William "Bill" Qualter. It happened one day while I was at work. Approximately six months earlier, I had learned of a new book called "Justice at Dachau", which focused on the lead prosecutor for the trials held at the Dachau Concentration Camp. I went to a website dedicated to the new book thinking I may learn something of the days there while my father was stationed there. There was nothing on the website to help with my research but there was a forum area. At the time, I assumed the forum was to answer questions about the book but later I realized it was placed there for people to make comments about the book. In any event, I posted information about my father, name, rank, unit, etc and asked if the book included any information about the period immediately after the war. I also included my email address. I never did get a response from the book's author but about six months later, I received a message from a Jos Cremers. He told me that his mother had been corresponding with a soldier from my father's unit ever since the war. A portion of the 6thTD Group operated a Rest Center in the Heerlen area of Holland. The soldiers met many of the people in the area and it was then that Bill had met Celine, Jos' mother as a twelve year old girl. Bill had written a short note in her diary and included his address in Chicago. Jos gave me the Bill's name and the city in which he lived, Chicago. I'd say that within 15 minutes, I had Bill Qualter on the phone. I couldn't believe my ears, I was actually speaking with someone from the 6th who may have known my father. It was too good to be true. We did speak for a few minutes at that time and he told me that he did know my father and that he was the go-to guy within the unit. When something needed to be done, he was the one who did it. I guess being dependable in time of war has an even greater value than in peace time. I must admit that at first I was skeptical of his memory and the personnel and general recollections of the time.
I made arrangements with him to send him some of the photos dad had brought home. He agreed to look them over and that I would later call him to discuss them. I sent them right off and numbered them with a duplicate copy for myself to go over them with him. I probably waited a week or more to make sure they had arrived and then I called him. If I remember correctly, he wasn't feeling the best so I ended up calling him back a few days later. We went over the photos, one by one, and he did his best to remember the men. Unfortunately he admitted that he did not recall many of them. He did recognize my father and surprisingly he recognized a photo of himself, standing next to Leo Levengood, who we had identified previously. Those two things in themselves made me feel good about his accuracy. I found out later that it was actually his oldest son that had recognized him in the photo.
I believe I spoke to Bill one more time after that but some time in June or July of 2009, I discovered that he had passed away. It made me sad to think that my one real connection to the unit was no longer there. This knowledge just made me more determined to find more connections, documents, photos, family members, and ultimately to create the site you now enjoy. One thing Bill did tell me that was somewhat discouraging was that at one time he had a written history of the unit but he had loaned it to someone who never returned it. That piece of paper would have been my Holy Grail. It could have possibly saved me countless hours of research but it would have made it too easy. Hundreds of phone calls and a multitude of hours on the Internet is a much better way to piece together such important events. Truman Alford mentions such a unit history in a document he wrote concerning the Brittany Campaign and Task Force "A". Hopefully someday I will come across the document…it will be a nice double check for the work I've done.