Rodeheffer, Allen W. (6th Grp)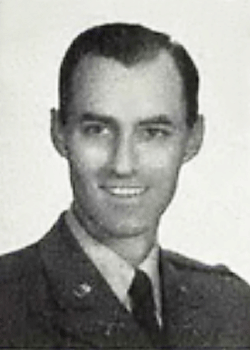 Allen W. Rodeheffer
Biography:  Allen W. Rodeheffer was born on September 3, 1917, in Washington Township, Auglaise County, Ohio.  He was the son of Edward J. Rodeheffer and Alvina Mary Fledderjohann.  He was one of 9 children, 5 boys and 4 girls in the family. After high school, Allen went on to attend Ohio State University, graduating in 1940.

Service Time:  Allen is listed on the personnel roster for the 6th TD Group on December 31, 1943, while they were at the Ft. Hamilton staging area in New York City.  He is also identified on the photo of the officers in Binegar Hall in England.  His name also appears on the wooden shoes from the Clarence Dick family.  The shoes are labeled August 1944 and Allen lists his home as St. Mary's Ohio.
The photo at left shows Allen while an Assistant Professor at Wheaton College and is used by permission of Digital Data Online, Inc. and E-Yearbook.com.