Righton, Walter C. (704th)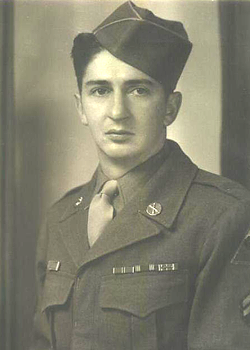 Walter C. Righton
Biography: Walter C. Righton was born on August 29, 1918, in the state of Illinois. He attended grammar school before going to work to help the family. Walter worked for a grease and oil manufacturing company prior to entering the service.
Service Time: Walter joined the army on Jan. 29, 1942, at Camp Grant in Illinois. At the time, he was living in Cook County, IL. He was assigned to the 704th Tank Destroyer Battalion and specifically drove a fuel truck. Keeping fuel in the tank destroyers was an extremely important job which would later earn him the nickname, Gas Can Wally. For his efforts under fire near St. James, France, in August of 1944, he received a Purple Heart and a Bronze Star. Walter reached the rank of Technician Grade 5 during his time in the service.
After the was, Walter returned to Illinois where he married Lucille and together they had two sons, Terry and Frank. Walter did many jobs over the years, including, bar tending, truck driving, county jail guard, Ford Motor Company plant guard, gas station attendant, overhead crane operator and school bus driver. Obviously, his 23 years with the Chicago Police Department was an impressive accomplishment and he retired from the force as a Sergeant. Walter was a member of the VFW and DAV (Disabled American Veterans) as well as the American Legion.
Walter passed away on January 10, 2005, and was buried at the Abraham Lincoln National Cemetery in Illinois. I want to thank Erwin Verholen for providing this information.