Sherman, Thomas M. (636th)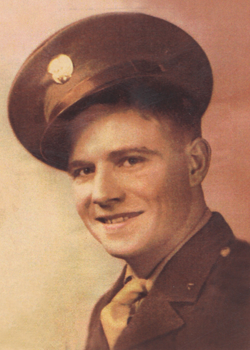 Thomas M. Sherman
Biography: Tom Sherman was born on Dec. 30, 1919, in southeastern Nebraska to the farming family of Tom and Elizabeth (Darrow) Sherman. One year, when the Missouri River flooded, Tom's father was forced to find work in the local town. Tom graduated from Peru Prep School in 1939. He then went to work in the CCC (Civilian Conservation Corps) Camps, which provided relief for unemployed men ages 18 to 24.
Service Time: In February of 1942, 200 draftees from Nebraska traveled to Camp Bowie, Texas, to become part of the newly-formed 636th Tank Destroyer Battalion. Tom was one of these men but his natural leadership skills soon shone through as he was promoted to Sergeant in only 6 months and served as Reconnaissance Company Sergeant. He continued to serve in that position throughout the war. The 636th was very active and received credit for seven campaigns on both the European and African continents.
While Tom was on leave met his wife to be, Louise. They later married and the couple had three children, a girl and two boys. Tom went back to school after he returned from the service and attended the University of Nebraska, receiving a degree in Agriculture. For four years after his graduation, he worked for the college as a County Extension Agent helping the local farmers make good choices for planting, fertilizing and harvesting their crops. Tom eventually was able to rent a farm and later purchase his own farm to continue in his family's tradition. When Tom wasn't farming, he enjoyed fishing and hunting and being part of the local American Legion and the DAV (Disabled American Veterans) organization.
I came to know Tom through his work on the book, "Seek, Strike and Destroy - A History of the 636th Tank Destroyer Battalion". Back in the early 80's, Tom began his quest to document the history of the unit and the men he had been through so much with. For a number of years, using much of his own money, Tom purchased and collected documents, reports and photographs from the various governmental resources and other members of the unit to put together a very detailed volume on the 636th.
I contacted Tom to ask his permission to use portions of the book on this site. Tom was gracious enough to not only give me permission, but he also arranged for a copy of the book to be provided to me. I want to personally thank Tom, not only for his work on the book, but also his assistance with this project. Tom has served our country, he served his community and he's still serving as an inspiration to me and those like me, trying to preserve the history of these men in this computer age.