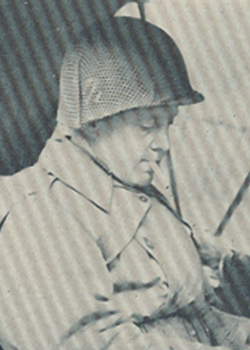 Walter E. Tardy
The following text is mostly from the Arlington National Cemetery website. Some additional information is included.
Walter Earle Tardy, 91, a retired Army Colonel who commanded a legendary tank destroyer battalion in World War II, died of chronic heart failure January 7, 2006, at the Westminster at Lake Ridge retirement center, where he lived. During World War II, he was commander of the 601st Tank Destroyer Battalion, a unit of the 3rd Infantry Division, in North Africa, Sicily and France. Colonel Tardy called the Kasserine Pass in Tunisia one of the unit's worst times and one of only two times that it was on the defensive. He told the Traverse City (Michigan) Record-Eagle in 2002 that 75 German tanks knocked out half of the unit's tanks, and the others were so disabled that battalion members had to hike back over the pass and wait several days for repairs.
The battalion went on to fight at Anzio, Italy, and also fought in the Ardennes campaign in eastern France, Hitler's last major offensive. Colonel Tardy's battalion arrived to support Company B, 15th Regiment of the 3rd Infantry, whose officers had been killed except for a young first lieutenant named Audie Murphy. Murphy, who became the most-decorated U.S.serviceman of World War II, boarded one of Colonel Tardy's disabled M10 tank destroyers, using its .50-caliber machine gun to kill or wound 50 German soldiers and prevent his troops from being overrun. Colonel Tardy met Murphy after he had been nominated for the Medal of Honor and was under orders to stay around regimental headquarters and out of danger. Murphy kept trying to sneak back to the front lines, Colonel Tardy told the Audie Murphy Research Foundation. "He didn't seem very happy sitting in that regimental headquarters. He was in a lot of places he wasn't supposed to be. He was an outstanding chap.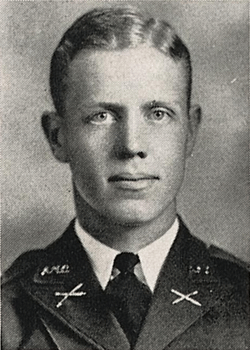 "Colonel Tardy was born in Bryan, Texas, and graduated from Texas A&M University in 1936. While there, he seerved in Battery "B" Field Artillery, the Press Club and a clumnist for the school's Longhorn yearbook. He was commissioned a Second Lieutenant in the Army Reserve and worked in oil exploration in Louisiana, Texas and Oklahoma. He was called to active duty in 1940, and by October 1942, was deployed to North Africa. He became the executive officer of the 601st Tank Destroyer Battalion and then elevated to commanding officer in March 1943, a position he would hold for more than two years. His battalion had a record 546 days in actual combat and destroyed 155 enemy tanks and armored vehicles, believed to be a record in the European theater.
Colonel Tardy's duties after World War II included staff assignments in France, the continental United States and Hawaii and attache duty in Baghdad. He was on duty in Baghdad in 1958 when a military coup claimed the lives of the king, several members of the royal family and many senior Iraqi government ministers.
His military decorations included the Legion of Merit, two awards of the Bronze Star and the Purple Heart. After his retirement in 1967, Colonel Tardy worked for several years in real estate and as a tax consultant in Northern Virginia. He was a member of Outpost 7 of the Society of the 3rd Infantry Division. He served as an elder at Old Presbyterian Meeting House in Alexandria, Virginia.
He lived in Annandale for more than 30 years. His wife of 63 years, Mary Elizabeth Smith Tardy, was born on 3/20/1915 and died on 2/19/2002. She is buried at: Section 67 Site 4032. Their two sons also died, Marine Corps Captain Thomas K. Tardy in 1978 and Rhodes E. Tardy in 1995. Survivors include two grandchildren. Colonel Tardy was buried in National Cemetery on 24 February 2006 with full military honors.