Walker, William T. Jr. (644th)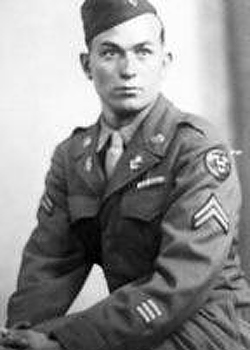 William T. Walker Jr.
Biography: William T Walker Jr. Born on the farm of his GG Grandparents Georgianna M. McCullough & Frank P.McCullough.of Wheeler County, Ga. Erick Community. Lois Inez Skelton & William T Walker Sr. the parents of William, this their first of four children.
Bill, as he was later called, was raised on a farm and spent most of his life on a small farm as a laborer, starting out at .50 Cents per day picking cotton & doing what ever became necessary as the work around a farm is never done.
Some time in the year of 1933, my father, a World War I veteran, decided to move to my Grandmothers homestead near Mc Rae Georgia where there was a CCC Camp ( Civillian Conservation Corps.) CCC was a government program started by Franklin D Roosevelt for WW1 Veterans. They were going to build a State Park (Little Oak Mulgee) near by and Veterans would be paid a $1.00 Per Day and room and board at a camp nearby. The family would live in a house on my grandmothers farm. A short time went by and my mother and father divorced and the family was split up. I went to stay with an uncle nearby, the others to other relatives and my mother keeping the baby brother. I stayed with my Uncle ED. He had three boys and a very large farm. We all went to school together and worked together on the farm.
Time passed and I was in High School at Wheeler County High School when Pearl Harbor was bombed on Sunday morning, All the boys near and above 18 years of age wanted to enlist into the service. I was 17 at that time but the draft board told me that I would be drafted as soon as I became of age in March
Service Time: That day came when my friends and neighbors invited me to become a soldier in the United States Army. I was inducted into the Army at Ft. McPherson Ga. near Atlanta, Ga. After a few days going through the Induction Center I was sent by train to Camp Hood, Texasfor training at the Tank Destroyer Training Center. This was the first time I had been away from home. I did not know any one. I found myself in a strange environment with free food, clothes & and $30.00 per month to spend as I wished. It was thirteen weeks of making your own bed, doing your own laundry, inspections, heat like I never has felt in Texas, doing KP, Guard Duty, firing range and what ever they decided we needed.