672nd Tank Destroyer Battalion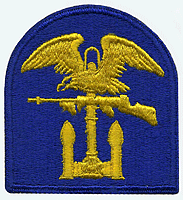 Unit History: Established June 19, 1943 at Camp Hood, Texas. On Apr. 15, 1944, while stationed at Fort Ord, California, the unit was redesignated as the 672th Amphibian Tractor Battalion. They sailed from the San Francisco Port of Embarkation on Sep. 23, 1944 and landed at Bougainville Island, on Oct. 9, 1944. The unit was attached to the 37th Infantry Division. It carried troops ashore in the assult landing on Jan 9, 1945, at Lingayen Gulf, Luzon, Phillipine Islands. It supported both the 37th Infantry Division and the 1st Cavalry Division in the drive south to Manila. In February, 1945, it was attached to the 11th Airborne Division for the mission to capture the Los Banos prisoner camp and release of its civilian internees on Feb. 23, 1945. Moved to Morotai, in June, 1945, the battalion was attached to the 1st Australian Division and one company from the Battalion carried troops ashore in the assault landing at Balikpapan Borneo, landing on Jul. 1, 1945. They shipped back to the U.S., landing at the San Francisco port on Dec. 24, 1945. The unit was deactivated, at Camp Stoneman, CA on Dec. 24, 1945. Text updated with information from Lt Col. Joseph A. Gibbs (Ret.).
Combat Equipment: N/A
Commanding Officers: Lt. Col. Joseph W. Gibbs

Code Name/s: Unknown
Campaign Credits: Northern Solomons...........Feb. 22, 1943 to Nov. 21, 1944 (Amphib)
Luzon..............................Jan. 9, to Jul. 4, 1945 (Amphib)
Congratulations to the members of the 672nd Amphibian Tractor Battalion who have finally been officially recognized for their role in the Los Banos Rescue on February 23, 1945. Through the tireless efforts of Pete and Rosamond Gleich, as well as others since 2006, who wrote over 140 letters and mailed almost 900 to various officials in the military and govenment for their support in this cause. On August 3, 2011, their goal was achieved. Please find below the Official Notifications of the award.
Awards: Presidential Unit Citation
Location August 1945: Manilla Philippines (less Company A at Morotal Island)
Motto: "Ever Onward"

Additional Information/Materials:
1.) Transfer Orders for Personnel to the 37th Infantry Division - Dated October 3, 1945, by command of Major General Robert S. Beightler. Courtesy of Lt. Col. Joseph A. Gibbs (Ret.) son of the unit's Commanding Officer.
2.) Reunion Photo of the 672nd - Taken in 1967 during the unit's first reunion held in Rockford, Illinois, on August 12 and 13. There are 24 men shown in the photo. Photo courtesy of Emil J. "Pete" Gleich.
3.) Reunion Photo of the 672nd - Taken in 2008 during the unit's reunion held in Washington D.C. Colin Powell paid them a visit. He is standing in the back row, just right of center. It looks to me as if there were about 15 of the veterans there with some other family members also present representing those that have passed on. Photo courtesy of Emil J. "Pete" Gleich.
4.) Company A Soldiers - Individual images of each soldier from Company A displayed together in a large grouping. Captain H.M. Smelley is the Commanding Officer, with seven other officers shown. It is dated 1944, and identified as being taken at Fort Ord, California. Courtesy of Art Carran.
5.) Company A Group Photo - The location is unidentified but I was able to identify that the Executive Officer was 2nd Lt. Gordon Shepard and the top enlisted man is 1st Sgt. R.H. Russell. Both these men were with the unit when they were stationed at Fort Ord, CA. I was unable to make out the other officers. Courtesy of Art Carran.
6.) Luzon Campaign Commendation - A two page letter of commendation for the 672nd, from the 37th Infantry Division Headquarters, for their outstanding performance in battle during their operations with the 37th Inf. Div. Courtesy of Art Carran.
7.) Company B Pictorial Page - Individualized images of each of the men serving in Company B. Taken at Fort Ord, California in 1944, while the unit was stationed there. Cpt. C.W. Bullard is identified as the Commanding Officer. Courtesy of Max E. Little, Jr.
8.) Photo Gallery