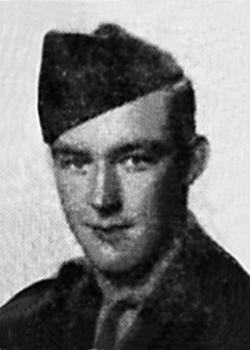 Richard W. Anderson
Biography: Richard William Anderson, "Dick", was born on April 23, 1920, in Peoria, Illiinois. He was the son of William F. Anderson and Latha May Culton and attended local schools through the 10th grade. After leaving school, he worked for the J.I. Case Company. His enlistment record indicates he functioned as some type of driver, probably truck or tractor.
Dick had signed on to the Illinois National Guard, which was called into federal service on March 5, 1941.
Service Time: Dick may have been serving with the 123rd Field Artillery Regiment of the 33rd Infantry Division "Illinois Division" of the National Guard and would participate in the Arkansas and Lousiana Manuvers held in 1941. The 123rd would yield its Batteries G & H and 1st & 2nd HQ Batteries, which were redesignated as the 33rd Anti-Tank Provisional Battalion. That unit would become the 633rd Tank Destroyer Battalion, which was activated on December 16, 1941, at Camp Forest, Tennessee.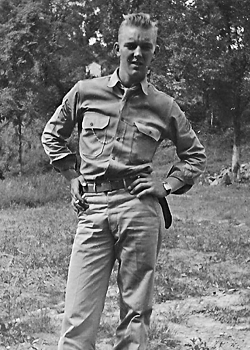 Five officers and 77 enlisted men were drawn from the 633rd to form the new 809th Tank Destroyer Battalion at Camp Forest, TN, on March 18, 1942. Dick served in Company A of the 809th and trained at a number of facilities within the U.S., including Camp Hood, Texas, Camp Gruber, Oklahoma, Pilot Knob, California, Camp Joseph T. Robinson, Arkansas, Camp Howze, TX, and Fort Benning, Georgia.
The unit received orders for overseas deployment and shipped out from the New York port on November 30, 1944, arriving in Liverpool, England, on December, 8th. Just over a month later, they boarded transports and arrived at Le Havre, France, on January, 20, 1945. The unit was equipped with M18 tank destroyers and supported the Roer River crossing in late February.
In a letter Dick sent home post-marked March 26th, he says that he doesn't think the war will last too long. He mentions eating pretty good and killing whatever they want to eat, including dog. He had fresh ham, eggs and pancakes that morning and it was very cold a few nights before so they kept their TD running all night just to keep from freezing. He also sent a warning to a potential enlistie "Jay", who he warns not join because he would be O.K. in the states but things were allot different on every road in Germany.
Just a few days later, on March 30th or 31st, Company A plus 1st Recon Platoon were marching with CCA (Combat Command A) of the 8th Armored Division, just south of Dorsten, in the vicinity of Polsum, Germany.Sergeant Dick W. Anderson was seriously injured by shrapnel with wounds to his back, hip, right leg and left hand. He would ultimately lose his hand. While recovering in the 20th Field Hospital, he was able to send a letter home to his mother, on April 6th. He didn't want his family to worry and said that he felt lucky to be alive.
Notification of Injury – April 10, 1945
V-Mail Letter Home – April 6, 1945
Dick shipped home on May 19th and arrived in the U.S. on the 28th. He was hospitalized at the Percy Jones Hospital Center near Fort Custer, Michigan. He was discharged from that location on September 28th. He received the Purple Heart in recognition of his injuries and was awarded the American Defense Medal, the EAME Medal and the Good Conduct Medal. He left the service at the rank of Sergeant.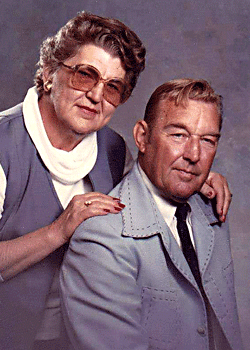 Dick went back to work for the Case Company and in 1949 or 1950, he married the former Jane Eleanor High, who was born in Des Moines, Iowa, and was the daughter of Edward High and Jessie Ellis. The new couple would make their home in Rock Island, IL, and have four children, Richard, born in 1951, Robert in 1952, Gary in 1953 and Nancy in 1954.
In his spare time, Dick enjoyed making jewlery from polished stones. He was also a member of the American Legion in Cordova, IL. It would be after his move to Florida that Dick served as the local Director of the DAV (Disabled American Veterans) in St. Petersburg, FL. Dick passed away on May 3, 1991, and was buried in St. Petersburg, FL.
I want to thank Dick's grandson, Jason, for providing the information and materials for this tribute.