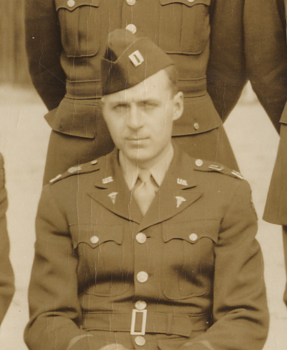 Robert J. Arendt
Biography: Robert Joseph Arendt was born in Watkins, Meeker County, Minnesota, on December 12, 1916. He was the first child of Joseph Philip "JP" Arendt and his wife, Adelaide T. "Della" Brick. Together they raised six children. "Bob" as he was known, attended St. John's University in Collegeville, MN and then St. Louis Dental School in St. Louis, Missouri. While still in school, he married the former Rose Cecelia Widmer, born February 4, 1921, who was the daughter of Maurice and Caroline Marie Widmer of Highland, Illinois. The Widmers owned a floral business in Highland where they raised their six children. Bob met Rose through a friend of hers who attended Dental School with him. Bob and Rose had their first child, Joseph Peter, born August 26, 1941 while the couple resided in St. Louis. Bob graduated from dental school in May, 1942, and spent the summer with his family at his father's cottage on Little Pine Lake in Perham, MN. After he left for the service, Rose and son, Joe, went to Highland to be with her family and await the birth of their second child.
Service Time: Bob entered the service on August 8, 1942. The first article listed below, from the local Highland, IL newspaper, identifies that he was flying from Ft. Lewis, Washington, on his way to Ft. Benning, Georgia, and the Parachute School and Airborne Command there. As the story goes, Bob ended up with an injury, which somehow diverted him into a Tank Destroyer unit. Ultimately it was his expertise in dental and facial surgery that would assign him to the Dental Corps Service right out of school. On his trip to Georgia, he stopped in Highland to welcome his new son, Steven Maurice, born October 10, 1942.
The history of the 628th TD Battalion, Medical Detachment, identifies that Lt. Arendt was transferred to the battalion during the ten week Tennessee maneuvers, which started in July of 1943. He can be seen in the officers photo of the 628th taken on January 6th 1944, at Ft. Dix, New Jersey. Bob is sitting in the front row, sixth from the right. This would have been right before their departure for England. The 628th would ship out on the same ship and the same day as the 6th TD Group. The ship, the Aquitania, left on January 29, 1944. They landed in Scotland on February 6, 1944.
The Medical Detachment history goes on to say that during their stay in England, the unit stayed at Packington Park, some eight miles from Birmingham and from there moved on to Wales for a pleasant two week stay. While there, the medics underwent additional training. The unit then returned to Packington Park for two weeks prior to moving to Dorchester in April, 1944, where the Battalion was in charge of Marshalling Area "D", servicing those troops that had been selected to take part in the invasion across the Channel in June, 1944. Lt. Arendt transferred to 6th TD Group during this time period.
Bob was known to have a camera around his neck, which is testified to by the nearly 300 photos supplied to me by his family, all of which are posted in the Unit Photo Galleries. His photos showcase a variety of subjects, including the Binegar Mansion, where the 6th's Officers are seen at mess time. A duplicate copy of the Officer's Mess photo that I received from the Newbury family identifies that both "Arendt" and "Balistrella", as well two other officers, are missing from the photo. They could easily have been performing their other duties as part of the Medical team. The other Dental officer, Michael Balistrella, is seen in many of the Arendt photos. The photo shown at the end of this article includes four medical personnel standing together. Bob is standing on the far left, Michael Balistrella is on the far right.
The second article, listed below, is a letter addressed to Jule, dated August 8, 1944, and is also from the Highland newspaper. The letter leads off with Bob describing how he finds France more beautiful and interesting than England. This letter was written during his time in the Brittany area of France and attached to the Third Army. The 6th would soon be attached to the Ninth Army and heading east toward Germany.
Many of the photos Bob had saved show him providing dental service to the troops. His dental work went beyond the troops as identified in a letter to Flo (Florence), his wife's older sister. He describes treatment of some of the USO entertainers that visited them and provides some detailed information on the Control Rest Center that the unit ran in the Heerlen area of Holland. The After Action Report of May, 1945, for the 6th TD Group lists, now Captain, Arendt as a Dental Officer. His status lists him as DS (Detached Service) 625 Med Clr Co. Bob continued with the unit as they would be stationed at Dachau at the end of the war. He eventually shipped home on October 30, 1945, and left the service four months later on February 22, 1946, at Camp McCoy, Wisconsin. His Letter of Separation lists him as earning the Victory Medal, American Theater Medal and the European-African-Middle Eastern Theatre medal with 4 bronze campaign stars for Normandy, Northern France, Rhineland and Central Europe.
After leaving the service, the Arendt's moved to Alexandria, MN in 1946, where Bob set up his dental practice. He continued in that profession for 34 years. The Arendt's also have five more children, Mary Jane born June 26, 1947, William Charles on October 26, 1948, Thomas Anthony on May 13, 1951, Ann Marie on September 23, 1952, and John Fredrick on March 19, 1957. Bob loved the outdoors, particularly fishing and hunting, and eventually built a house on Lake Cowdry located just outside Alexandria. A photo of Bob on Lake Cowdry is shown at the end of this article. He also enjoyed gardening, painting and making canes and was a member of Saint Mary's Catholic Church, the American Legion and both the Minnesota and American Dental Associations.
Bob passed away on August 7, 1995 at the age of 78. He was buried at the Ft. Snelling National Cemetery located in Minneapolis, MN. His grave marker can be seen at the end of the article.
Research: Finding Dr. Arendt wasn't really that difficult. I believe I did a search for Arendt and the word dentist and soon found an old listing for a Dr. R.J. Arendt Dental Office located in Alexandria, MN. Once I knew the city, searching for other "Arendt" children wouldn't take long. I want to personally thank the Arendt family for their assistance in this quest.

Article 1 from the Highland, IL newspaper.
Article 2 from the Highland, IL newspaper.
628th Tank Destroyer Battalion Officers group photo at Ft. Dix, NJ. Lt. Arendt is sitting in the front row, sixth from the right.
Letter to Flo (Florence) from Heerlen area of Holland. Please note that this letter was re-typed for clarity but it was kept as near to its original form as possible.
J.P. Arendt Family Photo. Taken at Bob's home at Lake Cowdry, MN in the late 1950's. Shown from left to right, Bob, Mary, Phil, Janelle, Renee, Mother-Della and Alice.
Bob Arendt Family Photo. Shown standing left to right, John, Bill, Steve and Joe. Shown Seated left to right, Mary Jane, Bob, Rose and Tom. Missing from the photo is daughter Ann.