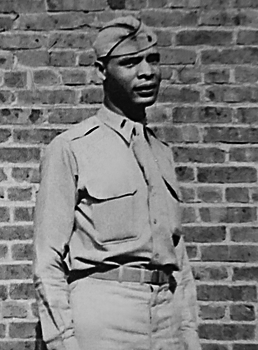 Aubrey C. Ashby
Biography: Aubrey Maurice Clinton Ashby was born on November 3, 1918, in Norfolk, Virginia. He was one of three sons and five daughters born to John Hilyer Ashby and Fannie Stith Scott. He graduated from Asbury Park High School and then attended Morgan State University in Baltimore, Maryland.
His enlistment record indicates he completed 3 years of college and was working as an insurance salesman prior to entering the military.
Service Time: Aubrey entered the Army on January 7, 1942, at Fort Dix, New Jersey. After his intial training, he was chosen to attend OCS (Officer's Candidate School) and was commissioned a 2nd Lieutenant, Corps of Engineers branch, on November 18, 1942.
On February 27, 1943, while on leave from his unit, he married the former Alma Clarissa Bell at Fort Custer, Calhoun County, Michigan. She was from Asbury Park, New Jersey and the daughter of Sterling George Bell and Theodora Elizabeth Richardson.
At some point, he was assigned to the 795th Tank Destroyer Battalion, which was formed, and did much of their training, at Fort Custer, Michigan. Additional training took place at Camp Grayling Military Reservation, MI, Camp Hood, Texas and Camp Plauche, New Orleans, Louisiana.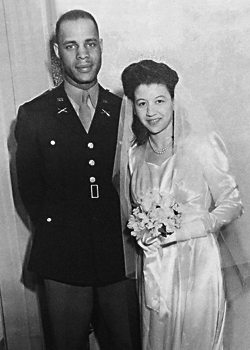 The 795th was deactivated on April 24, 1944, at the Hampton Roads Port of embarkation and its members would have been transferred to other units. We do not know which unit Aubrey was assigned initially but we believe he went into the replacement officer pool and shipped overseas on January 3, 1945. He was assigned to the 827th Tank Destroyer Battalion, which had been in France since November 1944, and had arrived in Seventh Army's sector east of the Vosges at the height of the German Nordwind offensive in January. The 827th was equipped with M18s and fought to eliminate the Colmar Pocket in late January and early February.
The unit was transferred to the Communications Zone for security duties in March and subsequently undertook other rear-area functions. Aubrey was transferred into the unit on March 7th and continued with them for the next few months and then shipped home on September 12, 1945.
He left active service at the rank of 1st Lieutenant on August 5, 1946, at the Officers Separation Point, The Pentagon, Washington, D.C. His unit at this time is listed as the 9834th Technical Services Unit, Corps of Engineers, Fort Belvoir, VA. He was awarded the EAME medal, with credit for campaigns of the Rhineland and Central Europe. He also received the WWII Victory medal.
In 1948, Aubrey was employed as an assistant manager at an unknown business and by 1950, he was working as a Progressive Life Insurance agent. In 1951, he began a career as a Federal employee at Fort Monmouth, New Jersey until he retired in 1981. He and Alma had four children: Carol A. born in 1943, Albert S. in 1947, Theodora A. in 1948, and Michael J. in 1950. Aubrey passed away on March 10, 1986, in Philadelphia, and he was cremated.
I want to thank Aubrey's daughter Theodora, "Teddi", for providing the information and photos for this tribute.