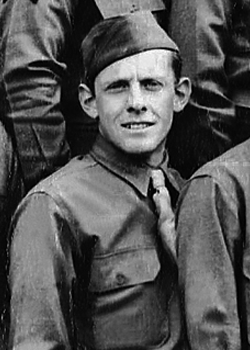 Ralph H. Askren
Biography: Ralph Harding Askren was born on April 26, 1921, in Indianapolis, Marion County, Indiana. He was one of three sons and one daughter born to Benjamin Harrison Askren and Elizabeth Margaret Stillabower. His enlistment record indicates he completed four years of high school and his draft record shows he was employed by the Indianapolis Wire Bound Box Company.
On August 23, 1941, Ralph married the former Jo Ann Lamkin.
Service Time: Ralph entered the Army on December 16, 1942, at Indianapolis. He arrived and was assigned to Company B, 607th Tank Destroyer Battalion on December 28th. He trained with the unit at a number of locations including: Fort Ord, Camp San Luis Obispo, Hunter Liggett Military Reservation and the Desert Training Center, all in California, along with Camp Hood, Texas and Camp Cooke, CA. While they originally trained with M10 tank destroyers, the unit was converted to a towed battalion, utilizing the M5 3" anti-tank gun, on December 15, 1943.
Arriving at Liverpool, England, on April 21, 1944, they continued training. Company B landed at Utah Beach, Normandy, France on June 23rd and the 607th supported the advance on Cherbourg, fighting along the Seves River in July. They joined the drive to Le Mans and envelopment of the Falaise Pocket in August, advancing to the Moselle River in September and supporting operations against Metz, France, through November. On August 25th, Ralph was promoted to Private First Class (Pfc). The unit converted to a self-propelled battalion, equipped with M36 tank destroyers, in time for the final assault on Metz. Continuing the drive toward the Saar River, they participated in the attack on Saarlautern, Germany.
On December 5th, the 3rd Platoon of Company B was supporting the 1st Battalion, 379th Infantry Regiment, 95th Infantry Division in their assault on Fraulautern, just NNE of Saarlautern, firing into houses, pillboxes and firing machine guns into light strong points. At 1130 in the morning, Co. B reported one tank destroyer had been knocked out and burned. It is believed that Pfc. Askren was killed in this action.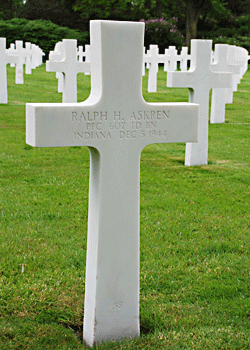 Private First Class Ralph H. Askren was buried in the Lorraine American Cemetery and Memorial, Block B, Row 24, Grave 58, in Saint-Avold, France. We would like to thank Pfc. Askren for making the ultimate sacrifice for his country. We would also like to thank Find-a-Grave contributor Dan Phelan for use of the grave marker photo.