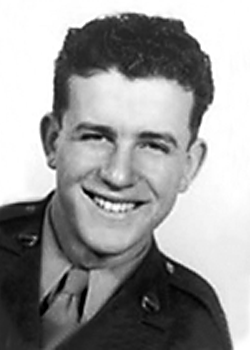 Robert E. Armstead
Biography: Robert Earl Armstead was born on April 2, 1926, in Falmouth, Michigan. He was the son of Wellington Russell Armstead and Margaret Grace Zuck and attended Lake City Schools, graduating on May 21, 1943. While still in school, he worked on the family farm prior to the war.
Service Time: Robert entered the service on September 1, 1944, and after his basic training, he was sent to Fort Hood, Texas, for additional training and then sent to join Company B of the 804th Tank Destroyer Battalion, which was already serving overseas.
The 804th had shipped out from the New York port on August 5, 1942, arriving in England on the 17th. They shipped to North Africa, arriving there on March 31, 1943, where they spent time training French troops in Africa and as observers at the front. Robert joined the unit during their time in Italy, taking part in actions in the Po Valley.
After landing in Naples, Italy, the 804th saw their first action at Cellole and Fasani providing nighttime harassing fire. They supported the efforts of a number of units including the 88th Infantry Division and their efforts to take the Gustav Line. They would play significant roles in the Rome-Arno, North Apennines and Po Valley Campaigns, each of which they received credit for.
Robert and 6,000 other troops shipped out of Norfolk, Virginia in 1945, and spent 11 days on the ship, while under heavy navy and air protection with the constant threat of enemy attack, to fight in the European Theater of War in Italy. Robert and these other 6,000 troops landed in Naples, Italy where other troops, tanks and other military equipment were staged before advancing to the front lines. These troops were stationed on the former farm of the Italian Dictator Bonito Mussolini. The main battle for Robert during his time frame in the European Theater of War in Italy was in PO Valley.
After the war had ended, Robert was sent back to the U.S. in anticipation of heading to the Pacific Theater of War to fight against the Japanese. However, with the dropping of the atomic bombs and the surrender of Japan, Robert did not have to go over to Japan and was sent back to Fort Hood, for a few months before being assigned to Fort Knox, Kentucky, where he would be involved in their armor testing program. He was awarded the American Theater, the Good Conduct, WWII Victory and EAME Theater Medals. On June 27, 1946, he was discharged at Camp Atterbury, Indiana, at the rank of Sergeant.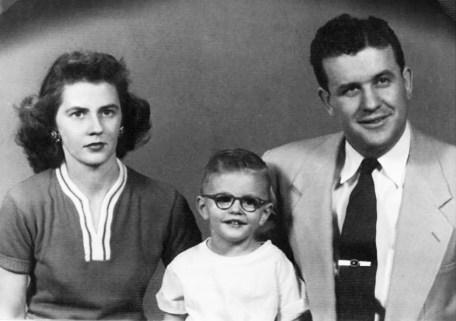 Robert returned to Michigan and started his own construction company, which built schools and other commercial buildings. He made a special effort to hire veterans to work for him. He would state to others "I survived the war, so I can survive anything life has to throw at me." He married the former Viola Marie Dean, who was born in Terre Haute, Indiana and was the daughter of Rollie Dean and Arlie Rader. The new couple would have a son, Robert, born in 1952.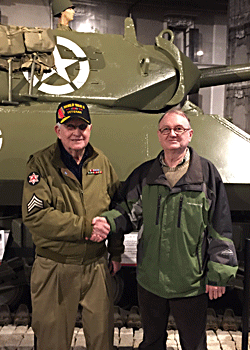 The photo on left was taken in December of 2016, at the General Patton Museum, Ft. Knox, KY. Robert (on left at age 89) and his son were given a private tour of the Ft. Knox facilities and the museum.
Robert passed away on December 6, 2018, at the age of 92. On August 26, 2020 Robert along with his great grandfather Peter Armstead, who fought in the Civil War, and his uncle Robert "Earl" who fought in WWI were all buried side-by-side at the Great Lakes National Cemetery in Holly, Michigan. President Trump sent a General to these burials, in which the Michigan National Guard, Sons of the American Revolution, Sons of Union Veterans of the Civil War, members of the Michigan State Police and VFW members were all there to honor Robert and his other family members.
I want to thank Robert's son, Dr. Robert Armstead, for providing the information and photos for this tribute.