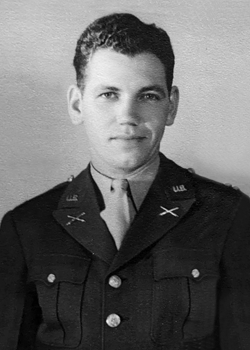 Edmond S. Aldredge
Biography: Edmond Scruggs Aldredge, "Ed", was born on August 3, 1918, in Wynnewood, Oklahoma. He was the son of Maxey Wilburn Aldredge and Bessie Bell Scruggs and graduated from Hobart High School in 1936. He continued his education at Oklahoma University, majoring in Engineering.
While at the University, we believe he took part in the school's ROTC (Reserve Officer's Training Corps) and upon graduation would have received the rank of 2nd Lieutenant. With the war imminent, he left the school early to begin his military service. A newspaper article identifies that in 1941, he was serving as a Reserve Officer in the 37th Field Artillery Battalion and was stationed at Fort Sam Houston, Texas.
Ed was promoted to 1st Lieutenant and on May 21st, he married the former Marjorie Madeline Packard in Kerrville, TX. Marjorie was born in Troy Township, Pennsylvania, and was the daughter of Dalston Manley Packard and Eva Christine Preston. Marjorie had previously received graduate training in physiotherapy at Walter Reed Hospital. After briefly working at the hospital, she was assigned to the Station Hospital at Fort Sam Houston. The new couple made their home in San Antonio, TX.
Service Time: The next mention of Ed is on a printed Thanksgiving napkin from 1942, identifying him as a Captain and the commanding officer of Company C, of the 602nd Tank Destroyer Battalion.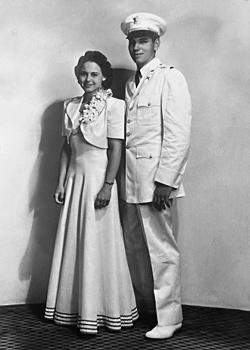 In July and August of 1942, the unit had taken part in the Louisiana maneuvers using improvised 37mm guns mounted on the back of 3/4 ton trucks. In late summer the 602nd moved to Camp Hood, TX, for specialized training and were one of the first units to train there. While at the camp they were equipped with M3 Tank Destroyers and when their training there was completed, they moved to Camp Bowie, TX, for field exercises to test their combat readiness. On December 15th, they moved to Camp McCoy, Wisconsin to prepare for "Winter Warfare", which was implemented in February and March during maneuvers in northern Michigan.
After the maneuvers, the unit returned to Camp McCoy and was issued M10 tank destroyers. In late summer of 1943, the unit was ordered to assist with the wheat harvest, so on August 4th they traveled by convoy to North Dakota with the HQ Company stationed in Minot. After six weeks in the wheat fields, the unit traveled back to Camp McCoy on September 21st. On November 11th, they traveled to Tennessee for maneuvers with tank forces commanded by General Patton. Once there, the 602nd turned in their M10s for M18 Tank Destroyers.
The 602nd shipped out on July 18, 1944, from the New York port, aboard the S.S. Bergensfjord and arrived in Scotland on July 29th. A month later they boarded transports and landed at Omaha Beach on August 26th. The unit was committed to battle along the Moselle River on September 9th and supported operations leading to the capture of Metz, France, in November. They moved to Belgium during the Ardennes (Battle of the Bulge) Offensive in December, 1944, and January, 1945. Next, they pushed through the Siegfried Line, eventually crossing the Rhine River in late March. Their advance continued through Gotha, Eisenach and Zwickau in April. On the 4th, portions of the unit were involved in the liberation of the Ohrdruf Concentration Camp. The 602nd received credit for four campaigns: Northern France, Rhineland, Ardennes-Alsace and Central Europe.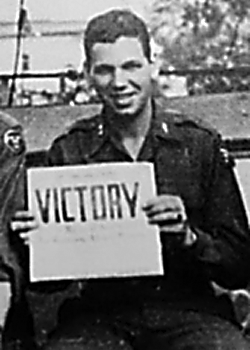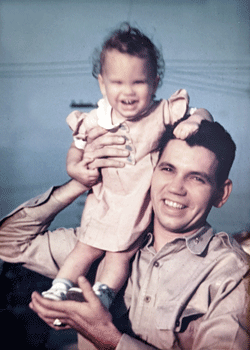 The photo above left was taken after the war in Europe had ended. The photo at the right is Ed holding his young daughter, Sue.
After the war had ended, and the Allied troops began occupational duties, men were shipped home while others were moved to other units. In a letter home, Ed identifies that he was transferred to the 499th Armored Field Artillery battalion, which was part of the 4th Armored Division. His unit was stationed about 20 miles north of Munich, Germany but was overloaded with officers so there was little for him to do. He, along with another officer and a Sergeant, went on a excursion to see Hitler's "Mountain Home" as well as a few other high ranking "big wig's" homes, which were all bombed out. He said the trip was most enjoyable. In addition to the various service medals for Europe, Ed was also awarded the Bronze Star Medal. He was discharged from the military on December 20th, at the rank of Captain.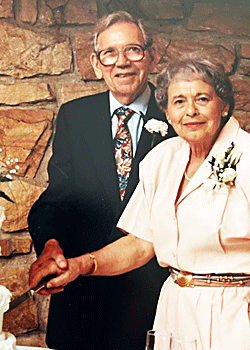 After returning home to the U.S., Ed went back to school to complete his degree. Following his graduation, he went to work for Union Carbide as a Mechanical Engineer in their Process Computer System Engineering group. The family lived in Charleston, West Virginia initially and then in LaMarque, TX, from 1948 to 1966, when he was transferred back to Charleston. Ed and Marjorie would have two children, Sue, in 1943, and Max in 1949.
The photo on left is from the couple's 50th wedding anniversary in May of 1991.
In his spare time, Ed enjoyed all types of sports, playing bridge and woodworking. He also served on the vestry of the St. Michaels Episcopal Church in LaMarque and was the president of the Highlands Elementary School PTA in 1953. He was a Fellow of the Instrument Society of America and a senior member of the American Society of Quality Control. Ed retired from Union Carbide in March of 1983, after 35 years with the company.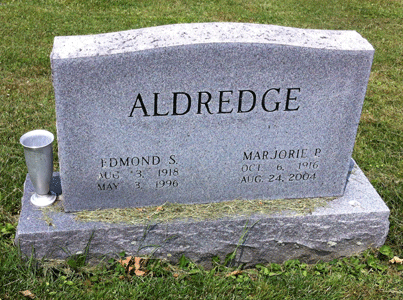 Ed passed away on May 3, 1996, and was buried in the Graceland Memorial Park in Charleston. I want to thank Ed's daughter, Sue, for providing the information and photos used in this tribute. Thank you also to Find A Grave contributor Doris Aliff for use of the grave marker photo.