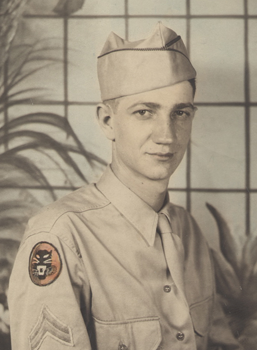 Warren S. Ansel
Biography: Warren Samuel Ansel was born on Jan. 22, 1922, in Reamstown Pennsylvania. He was the son of Alvin and Daisy Wolfskill Ansel. Warren attended school in Reamstown in what is now the Community Center. Prior to the war, he worked at the Stunzie & Son's Silk Mill where they manufactured material for parachutes and other silk products.
Service Time: Warren enlisted in the service on Oct. 13, 1942 in Harrisburg, PA. He went on to train at Fort Hood, Texas, and was placed in the 773rd Tank Destroyer Battalion. If you have read the history of the 6th TD Group, you may remember that the 773rd actually shipped to England (really Scotland) with the 6th on the Aquitania. Warren remembered the tent city, or Sausage Camp, marshalling areas in Southern England where the 773rd, as part of the 6th TD Grp, worked to prepare the troops for the Normandy landing. Once on the European Continent, some of his most vivid memories were of the crossing of the Saar River near Dillingen, Germany, and the Siegfried Line, which was a defence system stretching more than 390 miles with more than 18,000 bunkers, tunnels and tank traps. You can see a map of the route the 773rd took through Europe in the "Places-Maps" area of the website.
When Warren returned to the U.S., he returned to Reamstown and went back to work for the Stunzie Company. He later worked for the Ephrata Turkey Farm. In January of 1945, he married the former Elizabeth Young who was from Fivepointville, PA. They had six children, Timothy, Thomas, Diane, Joanne, Terry and Ted. In Warren's younger days, he enjoyed hunting and farming. At some point, Warren must have attended one of the reunions for the 773rd because he brought home a large mug showing the unit's crest and Campaign Credits. Two photos of the mug are shown below.
Warren passed away on July 25, 2012, and was buried at the Pleasant View Cemetery in Sinking Spring, Berks County, Pennsylvania.
I want to thank Warren's son, Ted, for interviewing his father and providing me with this information.