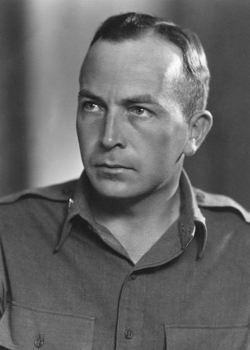 Truman Alford
The following text was provided to me by his daughter. I have included it in this write-up in its entirety
Biography: Truman Alford was born in 1911, the youngest of 11 children in a hard-scrabble backwoods family in central Louisiana. As a child, he missed a year of school for what was called "growing pains," but many years later an Army physical diagnosed that illness as having been rheumatic fever.
His route out of rural poverty was to go through LSU on a ROTC scholarship in the early thirties; He earned an electrical engineering degree but was unable to get a job during the depression. So he signed up as an officer with the CCC (Civilian Conservation Corps), and when WWII broke out, he got credit for his 5 (I think) years with CCC.
He married my mother, Margaret Parnell (whom he called a "Mississippi girl"), in 1937. It was 9 years before I (their only child) was born in July, 1946. We lived in Heidelberg, Germany from 1951-1954… a truly wonderful time to be an American in Europe. Those are some of my clearest childhood memories, and people literally couldn't do enough for us. In all, Daddy served 20 years in the Army and after 4 years in the Pentagon (which he called the ulcer factory) he retired as a Lt. Colonel in 1960.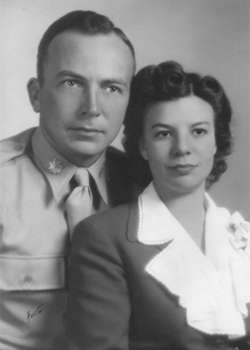 He, my mother and I moved from Arlington, VA, to Linden, TX, where he took a job as a branch officer with the Texas Forest Service… just about as far from the Pentagon, the Army, Britain (where he spent much of the war and absolutely HATED!) Dachau, etc, as he could possibly get. After I got married he and mama moved back to his home turf in Louisiana. In 1987, they moved to the northern Chicago suburbs to be near my husband and I. He died there in 1996, age 85, of lung cancer… undoubtedly from all those cigarettes the Army gave out during the war. He had stopped smoking 20 years before and thought he was in the clear. He's buried in the Fort Jessup Cemetery (a civil war fort) near his home town of Many, LA.
Photo to the left shows Truman and wife Margaret. She was one of the few women of her time that attended college and earned a college degree.
**********************************************************************
Research: Out of all the men I've had the privilege to research, I have the most "official" documentation on Major Alford (pronounced all-ford). This fact is probably because he was involved with a number of different activities within my father's unit (6th TD Group) as well as later writing about his experiences. I found his information much like the others, basic searches on the web, which led me to an Alford Genealogy. From there a question raised to its moderator, which in this case the moderator knew Truman and had spoken to him about their family history. He also knew Truman's daughter's name and the area that they had lived. It wasn't long until I had found her place of business and an email was sent. A very friendly email soon came back in reply. Subsequent emails revealed that many of the places my father had mentioned had also been mentioned in the Alford home….England, Holland, Germany and specifically Dachau.
Truman had been a career soldier and had gathered a room full of paperwork, photos and memorabilia from his life as a soldier. Unfortunately after his death in 1996, the majority of the items were disposed of. During his time with the 6th, he served as adjutant and later as S-4 officer. S-4 is the military title for the logistics officer, so he was in charge of managing all manner of supplies and services for the unit and the units they served. The S-4 position is widely considered the toughest job in the unit and in many cases filled by an officer with special training in this area. These facts are identified in the unit's Payroll Records and After-Action Reports. These same reports identify that he was with the unit while on maneuvers in the California desert in 1943, and still there with them on June 1st, 1945.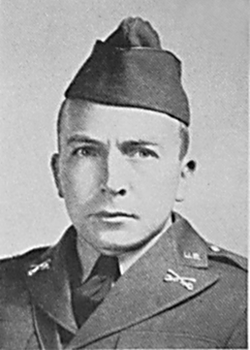 After WWII, Truman wrote about his experiences during the Brittany campaign and I was originally able to obtain a copy from the Donovan Library at Fort Benning, GA. Their librarian was very helpful even though they were going through some remodeling of the facility. The document was on microfilm, so it was white text on a black background. I was later able to obtain positive copy of the document and have posted it on the 6th TD Grp page.
One item I found most interesting was within the bibliography of the report, Truman lists a History of the 6th Tank Destroyer Group as a personal possession of the author, but as I mentioned earlier, almost all his materials were lost. It is my hope that other copies of the unit history may someday be found, if for no other reason but to confirm my research. Another contact from the unit, Bill Qualter, mentioned that he once had a copy of such a documment.
I sent the photo of the officers sitting around the table to Truman's daughter. She was able to identify him from just seeing him from the back, by the shape of his head. Her husband picked out the same man as his father-in-law. Truman was the first person to be identified in that photo. Her identification was later confirmed when a son of another soldier provided me with the same photo with all the names identified. You can't imagine how happy I was to receive the named photo.
Truman was also involved with the Control Rest Center, which was designed to provide four days of leave from the difficulties of war. A newspaper write-up on the Rest Center was included in the XIII Corps history. While looking through Major General Alvan Gillem's papers at the Carlisle Military History Museum, I came across a letter dated January 26th, 1945, to Truman, commenting on how good everything was at the Rest Center. General Gillem was the commander of the XIII Corps. Obviously Major Alford was a capable administrator.
Control Rest Center Letter – Maj. Gen. Alvan Gillem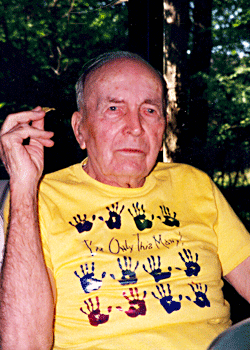 Three of the photos I have of Truman were given to me by his daughter. One was taken in Germany, by a professional photographer. The last (shown on left) was taken just a short time before he was diagnosed with Cancer. In the photo I mentioned before, he can be seen, with his back to the camera, in the officer's mess photo. This photo is included in the Photo Gallery of the 6th TD Grp. Another photo, shown above, is from the 4th Amored Pictorial from 1942, while stationed at Camp Polk, Louisiana. At the time, he was commanding Company B of the 703rd Tank Destroyer Battalion.
After WWII, he remained in the service and volunteered to serve with occupational forces in Korea. For two years prior to that he had been commander of cadets in Norwich University in Northfield, Vermont. After Korea, he was stationed at Fort Know, Kentucky.
I want to thank Truman's daughter for providing the information and photos of her father. She was also an encouragement to me during my early years of tank destroyer research and the website…thank you so much! I also want to thank Find A Grave contributor, Jerry Bohnett, for the use of the grave marker photo.