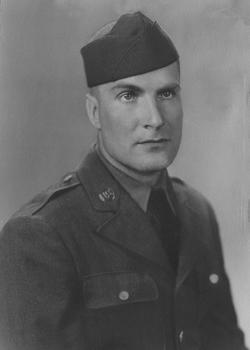 Eric A. Antonson
Biography: Eric A. Antonson was born Erik Arvid Saaf on December 17, 1911, in Bemidji (Beltrami County), Minnesota. His name was changed to Eric Antonson when his mother married Birger Antonson. His birth parents were Erik Algot Saaf from Sweden and Lorentina Regina Olsen from Norway. After leaving school, Eric worked on a number of farms in the Warren, MN, area, including the Carl E. Anderson, Ralph Rue, and E. F. Backstrom farms. He would later own his own farm northeast of the city.

Service Time: Eric entered the service in March of 1942 and received his basic training at Fort Lewis, Washington. He was transferred into the 776th Tank Destroyer Battalion and received additional training at Camp Hood, Texas. He shipped overseas in December, 1942 and landed in North Africa late in January, 1943. He saw action in Tunisia, then moved onto Sicily, Salerno, France and was later killed in the Battle of the Bulge, December 12, 1944. Sergeant Antonson brought his platoon from Company C into Petit Rederching, Germany, to assist Companies A and B when he was killed by artillery fire. Eric received four citations for his service in June, 1943, while in Tunisia; April, 1944 in Italy and June and September, 1944, while in France. He reached the rank of Staff Sergeant during his service time.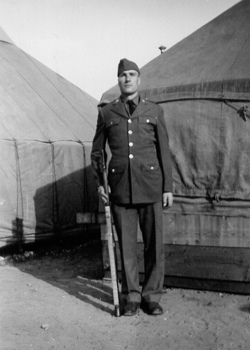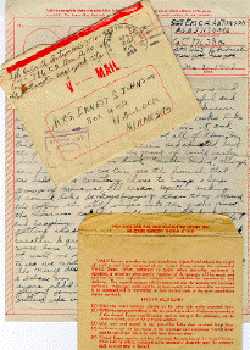 Eric was originally buried in France but was re-interred in the Greenwood Cemetery in Warren, Minnesota. His obituary from the Warren Sheaf identifies that his re-internment services were held on Monday, Dec. 10, 1948, at the Quanrud Chapel, Rev. W. A. Fleagle officiating. Music was furnished by a male quartet. Pall bearers were Nels Freng, John P. Engelstad, Donald Willey, Robert Friebohle, L. A. Miller, and H. L. , all Legionnaires.
While in the service, Eric sent a number of letters home which his great-niece, Marisa, transcribed to make them easier to read.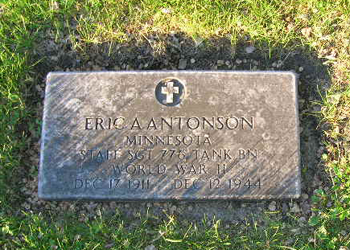 The last photo is of Eric and his half-sister Anne "Anna" to whom he writes in his letters. I want to thank Marisa for providing this information and photos.