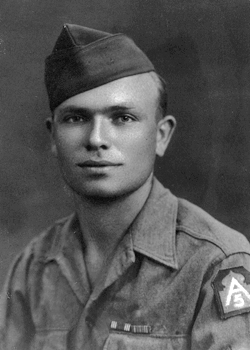 Walter H. Abbott
Biography: Walter Hubbard Abbott was born on August 3, 1918, in Weems, Lancaster, Virginia. He was one of three sons and one daughter born to Walter L. Abbott and Lillian W. Sadler. His enlistment record indicates he completed one year of high school.
In 1936, he joined the Merchant Marines and then resettled for a short time at Station Bland, New York, before moving to Baltimore, Maryland. While in Baltimore, he worked for Western Maryland Diary prior to entering the military.
Service Time: Walter entered the Army on October 7, 1941, at Baltimore, Maryland. He was eventually assigned to Company A, 805th Tank Destroyer Battalion. Following training at various locations in the U.S., the unit left Camp Hood, Texas, October 30, 1942, and arrived at Indiantown Gap Military Reservation, Indiana, on August 2nd.
They shipped from the New York port on August 5th, arriving in England August 18th. Following more training in the U.K., they boarded transports and landed at Algiers, Algeria on January 17, 1943. The 805th was equipped with M3 GMC Tank Destroyers and fought at Kasserine Pass and Gafsa, Tunisia.
They converted to a towed 3-inch gun battalion in October 1943, and were the first to use them in combat. The unit again boarded transports and debarked in Italy October 28th, at Bagnoli. They then shipped to the Anzio beachhead on March 12, 1944, and served largely as artillery even after re-equipping with M18 Tank Destroyers in June through August. The 805th was the only unit to be fully equipped with M18s in Mediterranean Theater of Operations. Their TDs were part of the advance guard at the capture of Bologna and Brenner Pass. The 805th received credit for campaigns in Tunisia, Naples/Foggia, Rome Arno, North Apennines and the Po Valley. Walter left the service at the rank of Staff Sergeant.
After returning to the U.S., Walter and his brother, Earl, formed the Northside Crab Co. in Weems. At some point, he married Anna Isabelle Martin from Baltimore, daughter of Bowman C. Martin and Anna I. Fitzpatrick. The marriage would end and on February 22, 1951, in Kilmarnock, Virginia and Walter would marry the former Ruby E. Benson, daughter of William H. Benson and Rebecca McKenney. In 1964, Northside Crab became Abbott Brothers, Inc. and the firm grew to specialize in the wholesale-retail sale of crabs and oysters.
Walter was a member of Kilmarnock Baptist Church where he served as deacon and Sunday School teacher. He served the youth of Lancaster County as a member of the board of directors of the Lancaster County Youth Club. He also served on the National Republican Committee as a sustaining member for two years, and was a member of the Windmill Point Yacht Club.
Walter passed away on July 22, 1982, and was buried in the Woodlawn Cemetery in Kilmarnock, VA.