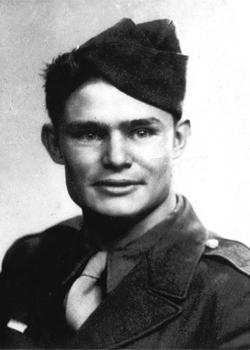 Johnnie C. Amacker
Biography: Johnnie Cleman Amacker was born on January 12, 1923, in Bogalusa, Louisiana. He was the son of Joe Amacker and Loutisha "Tisha" Anderson and was born prematurely and not expected to live. Due to his father's substance abuse issues, it was decided to give Johnnie to Tisha's sister Louisa. She then raised him to the age of 12, but wasn't allowed to adopt him due his father's issues. At this point, his troubled father returned to take him and Johnnie was forced to leave school and work in the woods with a stumping crew, hauling water to the men and doing whatever chores were needed. At the age of 17, he worked at Bolan's Gas Station in Hattiesburg, Missippi and lived with his grandmother. One of his family members, who had lost his job, talked their way into Johnnie's job. He was so hurt by this that he enlisted in the Army without telling his family.
Service Time: Johnnie entered the service on January 29, 1942 at Camp Shelby, MS. At the time, he had been living in Forrest County, MS. He was assigned to Company A of the 704th Tank Destroyer Battalion and trained with the unit as a gunner at Pine Camp, New York, Fort Hood and Camp Maxie Texas, and Camp Ibis in the California Desert. The 704th spent much of their time before and during the war attached to the 4th Armored Division and shared in their numerous achievements as part of Patton's 3rd Army. The 4th was unofficially known as "Patton's Butchers" and Johnnie related to his grandson how proud he was to be part of such a unit that had such a fearsome reputation with the Germans. It was his belief that the 4th allowed only a limited amount of photographs or interviews to protect them from any accusations due to the extreme violence of action that this unit employed in combat.
Johnnie was injured numerous times, including a gunshot wound to his left foot and a severe concussion during an attack from the air. A Luftwaffe plane made a strafing run on their column of TDs. Johnnie dove under the TD while another crewmember moved into the gunner's seat. The other crewmember was killed instantly when the plane scored a direct hit. The explosion sent an access panel down onto Johnnie's head and shoulders. He wasn't breathing and was assumed to be dead but he was revived by medics after a few minutes of work. Each time he was sent to hospitals for recovery but returned promptly to his unit. His grandson is working to correct Johnnie's Purple Heart oversight, which is still pending congressional approval. He was also practically frozen from the waist down, which contributed to him having trench foot and spending additional time in a hospital. Johnnie did receive the Good Conduct Medal, WWII Victory Medal, American Theater Medal and the EAME Medal. He left the service at the rank of Corporal.
Promotion to Technician 5th Grade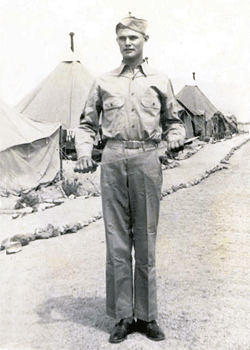 The photo to the left shows Johnnie while stationed at Camp Ibis in the California desert. The camp was one of a number of camps that were part of Patton's Desert Training Center. Training done in this area was used to prepare the units for service in a climate and terrain similar to what they would encounter in Africa.
When he returned to the U.S., Johnnie found work in a variety of occupations, including a stumper (pulls out pine stumps and sells them for their high resin content), a farmer, welder, plumber and pipefitter. On July 6, 1947, he married the former Betty Francis Jones who was born in Oak Grove, Mississippi. She was the daughter of Ebb Jones and Cathleen Bufkin. The couple made their residence in Oak Grove and had four daughters, Francis, Nancy, Polly, and Letha.

In his spare time, Johnnie enjoyed the outdoors, particularly hunting and fishing. He was a faithful member of Burnt Bridge Baptist Church and was a 35 year member of the Hattiesburg, Mississippi, Local Union 619 of the United Association of Plumbers and Pipefitters.
Johnnie passed away in January of 2006 at the age of 83. He was buried at Lee Hill Cemetery in Lamar County, Mississippi. I want to thank Johnnie's grandson, James, for providing the information and photos for this tribute as well as additional information on the 704th.