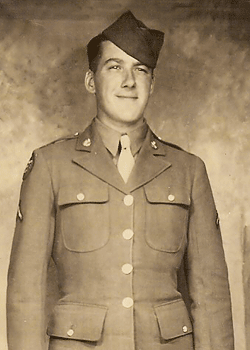 Robert Arrighini
Biography: Robert Arrighini was born on December 21, 1919, in San Francisco, California. He was the son of Ruggero Arrighini and Florence Stephens and graduated from Jefferson High School in Daly City, CA, on June 8, 1938. After graduation, he worked on installation and repairs of furnaces.
Service Time: Robert was inducted on January 7, 1943, and went into active service on the 14th. He was assigned to Company B of the 823rd Tank Destroyer Battalion, which saw action throughout Europe, receiving credit for participating in the Normandy, Northern France, Central Europe, Ardennes-Alsace and Rhineland campaigns. Robert was awarded the EAME Ribbon, American Campaign Ribbon, Good Conduct Medal and the Purple Heart for wounds he received on October 12, 1944. He also shared in the success of his unit which received the Distinguished Unit Citation. Robert left the service at the rank of Technician 5th Grade.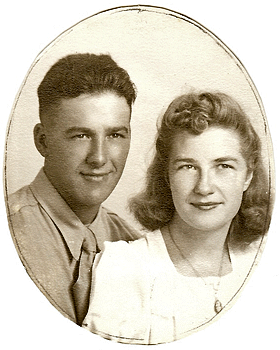 Robert had met his bride to be, on a blind date in San Francisco, during the summer of 1942. Lillian LaVena Hodges was working as a telephone operator for Pacific Bell. She and her parents, William J. Hodges and the former Priscilla M. Williams, moved to a farm in Liberty, Texas, just about the time Robert was moved to Camp Hood, Texas. Lillian was born in Quinlan, TX so this was not an unusual move but it did prove to be a lucky break for their courtship. Every chance he had, Robert hitch-hiked to visit Lillian, which continued even after their marriage. They were married on August 9, 1943, in Liberty, TX, which was about 250 miles from Camp Hood. Lillian saved all of Robert's letters, particularly the one describing his return to the base, in March 1944 (his last trip home until October 31, 1945) which relates a long list of funny but very touching circumstances, including flat tires, missed buses and more.
The main photo shows Robert prior to leaving the United States in late 1943 or early 1944. The photo above is Robert and Lillian's wedding photo from August of 1943.
When Robert returned to the U.S., he found work as a diesel mechanic and later as the manager of a transportation company. The couple lived most of their lives in San Francisco but later moved to Daly City. They had four children, Patricia born in 1944, Roberta in 1948, and twins sons, Rodger and Robert born in 1951. In his spare time, Robert Sr. enjoyed making custom jewelry, wood carving and rock hunting. He passed away on November 23, 1981, and was buried in the Olivet Cemetery in Colma, California.
I want to thank Robert's daughter, Roberta, for providing this information and the photos of her father and mother. Thank you also to Find A Grave contributor, Louis Roth, for the use of the grave marker photo.