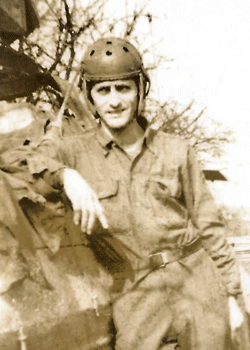 Anthony J. Allegrucci
Biography: Anthony Joseph Allegrucci was born on December 28, 1914, in Sayre, Pennsylvania. He was the son of Julio and Rosa Allegrucci and attended Sayre area schools, graduating in 1932. He was a football star while in high school and played semi-pro ball for a period of time. He found work on the railroad as a brakeman and repairman. At the time, the railroad was a large employer in the community.

Service Time: After entering the service, Anthony was assigned to B Company of the 893rd Tank Destroyer Battalion which received campaign credits for Normandy, Northern France, Rhineland, Ardennes-Alsace and Central Europe.
After returning to the U.S., Anthony resumed working for the railroad. In 1947, he married the former Janice Crockenberg of Towanda, PA. The couple made their home in Sayre and had 4 children, 2 boys and 2 girls.
Anthony enjoyed watching baseball in his spare time and was a member of both the VFW and Elks in his area. Anthony passed away in 2003 and was buried in Waverly, New York.
I want to thank Anthony's son, Eric, for providing the information and photo of his father used in this tribute.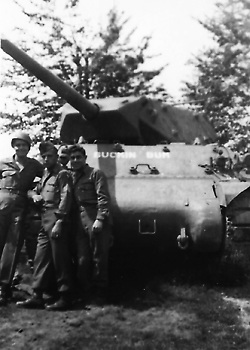 Although Anthony is not shown in the photo to the left, he had identified the M10 Tank Destroyer, "Buckin Bum", as his and it is believed that he was probably manning the camera.