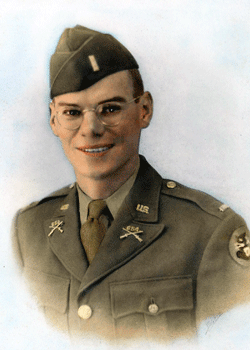 Maurice P. Alger, Jr.
Biography: Maurice Plaisted Alger Jr., who went by the name "Algie", was born on September 29, 1920, in Cebu City, Cebu Island, Philippines. He was the son of Maurice Plaisted Alger Sr. and Ann Enesly. Maurice senior was an Army Officer serving in the Philippines. Algie attended Brent Episcopal School in Baguio, Philippines, from 1931 to 1935 and then The Manlius Military School in Manlius, New York, from 1936 to 1940, graduating with a "Scientific Degree". He went on to Rensselaer Polytechnic Institute (RPI) from the fall of 1939 to February of 1942, majoring in Mechanical Engineering. Prior to entering the service, Algie was a math tutor and counselor of a woodcraft shop. Throughout this time, he was living in the Troy area of New York.
Service Time: Algie entered the Infantry Reserve on February 20, 1942, as a Second Lieutenant and was assigned to serve at West Point but was instead ordered to Camp Gordon in Augusta, Georgia. There, he became a Platoon Leader for Company B of the 654th Tank Destroyer Battalion where he served from April of 1942 to March of 1943. He also served in Companies A and C and as the Battalion Adjutant. Just prior to the unit's deployment, Algie served as a Platoon Leader for the Reconnaissance Company. He remained in that position until February of 1944. While in Europe, he was reassigned to Company B as their Executive Officer.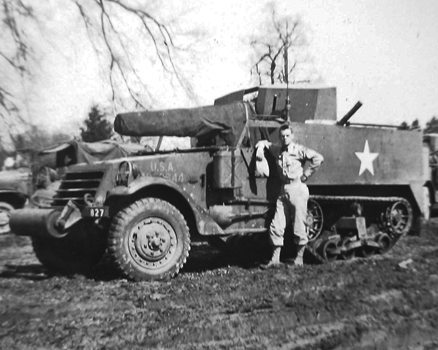 2nd Lt. Alger standing by an M3 Tank Destroyer during training at Camp Forrest, Tennesse, sometime in 1943.

On July 21, 1944, Second Lieutenant Alger and his best friend were killed when a single German "88" artillery shell struck the pavement in front of their M10 tank destroyer. Just as they dove under the fateful destroyer for cover, the TD commander heard their last words – "I'll beat you under". The men were defending a vital forward position in the city of Saint Lo, France. The single shell killed Algie, his best friend First Lieutenant David J. Thelen, and seriously wounded Sergeant Bruce L. Foster.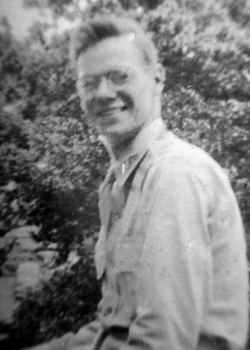 For their actions during this period, Company B was recommended for a Unit Citation, by Lt. Col. William V. Martz, making note of their extraordinary heroism. Martz personally lead a volunteer group of ten GI's from Recon and Headquarters Companies to recover Algie and Thelen's bodies on the evening of July 22, 1944, but he was captured by German forces at Mortain, France, and the citation never materialized. Algie did receive the Purple Heart for making the ultimate sacrifice for his country. He was posthumously promoted to the rank of First Lieutenant.
Algie was laid to rest in the Normandy American Cemetery (Plot J Row 16 Grave 4) located at Colleville-sur-Mer/St. Laurent-sur-Mer, Calvados, France. During his short life, Algie enjoyed building model airplanes, fishing, hiking, golfing, skiing and hunting. He was a member of the Boy Scouts, the American Society of Mechanical Engineers and a Past-President of Alpha Kappa Pi Fraternity during his time in college.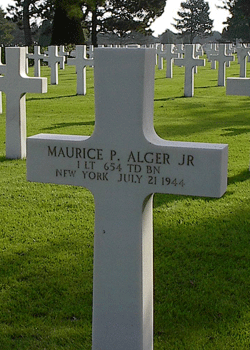 I want to thank Algie's niece, Ann Gaule, for providing this information and photos of her uncle. She has also provided a more detailed account of Algie's Army career and life. You can the account at the following link:
Detailed Bio – Maurice Plaisted "Algie" Alger Jr.
Portions of the above text were written by Ann Gaule.