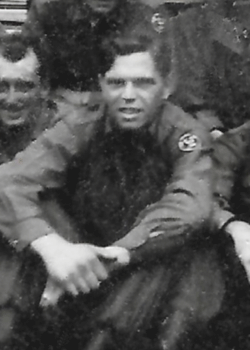 Raymond A. Alles
Biography: Raymond "Ray" Arthur Alles, was born on February 19, 1926, in Rockford, Michigan. He was the son of Adran "Ed" Alles and Pauline Metzger and graduated from Rockford High School in 1944.
Service Time: Ray entered service on June 21, 1944, at Fort Sheridan, Illinois. He was trained as a replacement, at Camp Hood, Texas, and shipped from New York, on January 31, 1945. He was assigned to the 802nd Tank Destroyer Battalion, as a fuel truck driver, through two of the unit's campaigns, Rhineland and Central Europe. It was during these two campaigns that the unit crossed the Rhine River and took part in the elimination of the Ruhr Pocket. The 802nd took on occupational duties with most of the unit shipping home by the end of November. Ray remained in Germany, arriving back in the U.S. on June 8, 1946. He left the service on June 13, at Camp Atterbury, Indiana. He had reached ranked the rank of Corporal and received the EAME medal, WWII Victory Medal, Army of Occupation Medal and the Good Conduct Medal.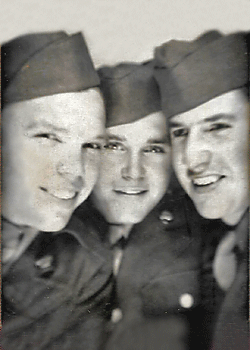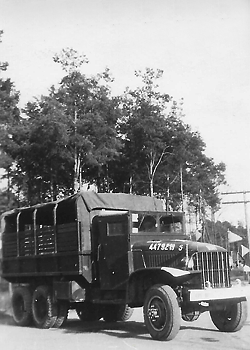 In the photo on the left, you can see Ray, on the left, with his buddy Bruce Elkins, on the right. The center soldier is unknown. The photo on the right is Ray's truck. You can see his name written on the hood.
Ray worked as a farmer and owned the C.D. Campbell Lumber Corp. and later worked for Steelcase, Inc. On November 5, 1948, he married the former Yvonne V. Switzer, who was the daughter of Sherman Switzer and Delove Dise. Yvonne was born in Cedar Springs, MI. The couple had three children, Mike, born in 1946, whom they adopted, James, in 1949 and Judith in 1951.
In his spare time, he injoyed woodworking and the outdoor activities of camping and hunting. He was a member of the Silver Lake Grange, which is a farm-based fraternal organization. Ray passed away on October 12, 1990, and was buried in the Blythefield Memorial Gardens, Belmont, MI.
I want to thank Ray's son, James, for providing the photos and information for this tribute.