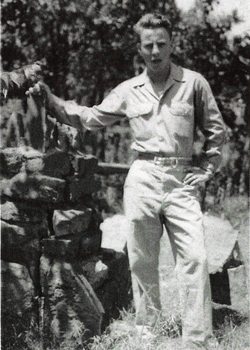 Benny L. Ashbaugh
Biography: Benny Lee Ashbaugh was born in Barlow, Oregon, on January 8, 1925. He is the son of Benjamin Harrison Ashbaugh and Mildred Read and attended elementary and high school in the Yakima Valley, Washington. He graduated in 1943 and was immediately drafted.
Service Time: Benny entered the service on June 6, 1943, at Spokane, Washington. He was initially assigned to the 702nd Tank Destroyer Bn but transferred to Company A of the 643rd Tank Destroyer Battalion in December of 1943. The unit shipped from the Boston, Massachusets, port on September 5, 1944, and landed at Cherbourg, France, on September 15th, equipped with 3″ towed guns. They entered battle near Manhay, Belgium, later that month. After crossing the Roer River in February, they were re-equipped with M18s and crossed both the Rhine and the Elbe Rivers on their way to Zerbst, Germany. The 643rd received credit for the Rhineland, Ardennes-Alsace and Central Europe campaigns. Benny left the service at the rank of Staff Sergeant.
Benny returned to the U.S. and went back to school, attending Central Washington University, in Ellensburg, WA, and the University of Washington in Seattle. He worked as an elementary and high school teacher as well as a high school librarian. On January 23, 1948, Benny married the former Merlene R. Mann. She was the daughter of Gordon Mann and Mary Canfield and was born in Portland, OR. The couple had four sons, Robert, Richard, Ronald and Gary, born from 1949 to 1952.
Benny enjoys traveling and gardening and is a member of the American Legion, National Education Association and the Grandview Baptist Church in Oregon City.
I want to thank Benny's wife, Merlene, for providing the information and photos for this tribute. I want to thank Benny for his service and wish him good health and long life.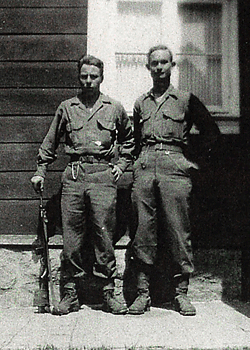 Shown on far left is Benny, standing with his driver.