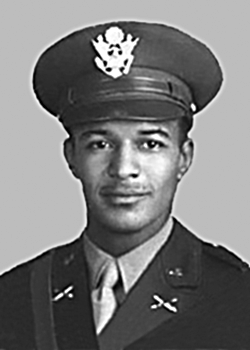 Joseph C. Awkard, Jr.
Biography: Joseph Cyrus Awkard Jr., "Joe" was born on December 29, 1920, in Harrisonburg, Virginia. He was the son of Joseph C. Awkard Sr. and Nanline Wood. Joe received his BA in history at Virginia State University in 1942.
Service Time: Joe entered the Army on September 9, 1942, at Charlottesville, Virginia. As indicated by unit records, 2nd Lieutenant Awkard arrived as a replacement for the 614th Tank Destroyer Battalion sometime after March 1, 1945, when he is listed in the Officer Roster. It was in mid-March that the unit took part in the 7th Army's advance into Germany. The town of Kindwiller was captured and Bischholtz was raided resulting in many prisoners. In early April, the 614th began occupation duties before joining the race to Innsbruck, Austria, and Brenner Pass.
He left the service in 1946 at the rank of 1st Lieutenant and earned the following medals, EAME, Good Conduct, WWII Victory and the Army of Occupation of Germany and credit for the unit's Rhineland campaign.
Once back in the U.S., Joe worked as a teacher and then principal, at the D. W. Davis School in Staunton, Virginia from 1946 to 1954. From 1954 to 1979, he was a professor and chairman of the psychology department at Florida A&M University. During this period, he also earned his Master of Science in Psychology from Virginia State University and his Education Doctorate in Psychology from the University of Virginia in 1964. In 1979, Dr. Awkard became a professor of psychology at the University of North Carolina at Wilmington. In 1986, he became Professor Emeritus of Psychology at the University of North Carolina and Florida A&M University. He was also a published author in the field of psychology.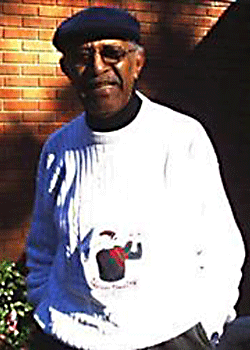 Dr. Awkard served as adviser to the American Psychological Association committee on Equal Opportunity in Psychology, adviser to the Congressional Task Force on Education of Exceptional Children (94th Congress) and adviser to the U.S. Congressional Black Caucus (Health Brain Trust). He received the Distinguished Service Award of publishing the newsletter of the National Association of Black Psychologists in 1970, the Distinguished Service Award (Southern Regional Education Board) in 1980 and received the Distinguished Behavioral Science Award from the Association of Black Psychologists. Dr. Awkard also served as President of the National Association of Black Psychologists and was a member of Omega Psi Phi.
He married Julita and they had three children. They were longtime residents of Tallahassee, Florida.
Dr. Awkard passed away on Feb. 26, 2006, in Washington, D.C. He was buried at Newtown Cemetery in Harrisonburg, VA. We would like to thank him for his service to the country and his long, distinguished career in the public education field.