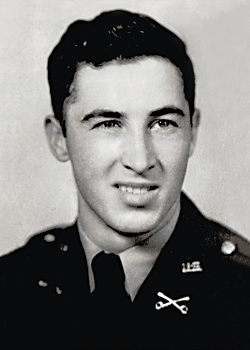 Darwin E. Aten
Biography: Darwin Earl Aten was born on July 27, 1921, in Arlene, Michigan. He was the son of Henry B. and Ruby Aten and attended grade school in Arlene. He graduated from Manton High school in 1938 and then entered Michigan State College, majoring in agriculture. He graduated in 1943 and had been involved in the school's ROTC program all four years,

Service Time: Darwin entered the service in March 13, 1943, at Detroit, Michigan, and received training at a number of camps before being assigned to Camp Hood, Texas. He was chosen to attend OCS (Officer Candidate School) beginning on September 6 to December 31, 1943. He was commissioned as a Second Lieutenant from their 51st Class of officers.

In addition to Officers training, Darwin completed the Officer's Motor Course, which was held from January 24 to April 15, 1944.
On Saturday night, July 23, 1944, at about 10:15 pm, Darwin was traveling by car, with a number of other army personnel from one section of Camp Hood to another. The distance was in excess of 12 miles. One of the front tires blew out and the car went over an embankment and turned over on its roof. Darwin was killed instantly and others in the vehicle were injured, one seriously. At the time of his death, he was serving as the post range officer.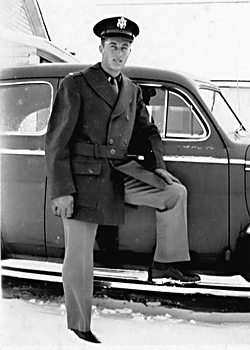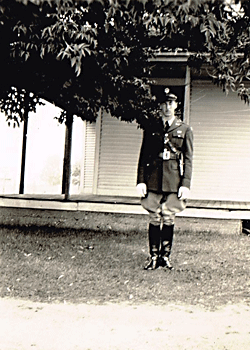 Darwin's body was brought back to the family at Manton. He was accompanied by a Lt. Fitzgerald, who was a representative from Camp Hood. The funeral services were held at the Christian Reformed Church in Arlene and he was buried in the Manton Cemetery. Surviving Darwin were his parents, two brothers, Jerold and Ray and a sister, Audrey. Jerold, at the time, was an Army Lieutenant stationed at Camp Shelby, Mississippi.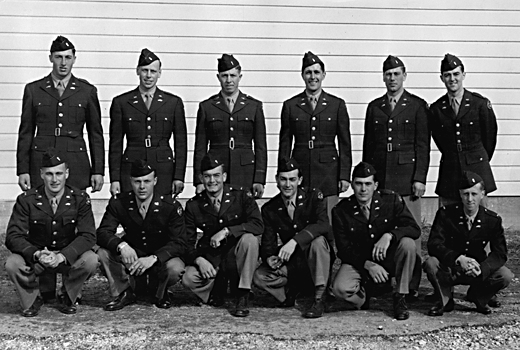 Darwin is standing in the back row on the far left. Not sure if this is a group from his OCS graduating class or other officers he was just serving with. They are all wearing the officers' half-track collar inignia and the TD patch.
I want to thank Erwin Verholen for providing the information and photos of Darwin.