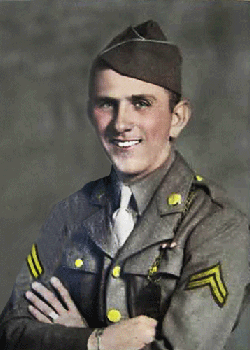 Edward J. Arsenault
Biography: Edward "Eddie" J. Arsenault was born on January 4, 1916, in Fall River, Massachusetts. He was the son of Theophilus Asenault and Delvina Roy and received a grammar school education in local schools. His enlistment record identifies that he worked as some type of truck, taxi or tractor driver prior to his service in WWII.
Service Time: Eddie entered the service on February 11, 1942, at Fort Devens, MA, and was assigned to Company B of the 703rd Tank Destroyer Battalion. They landed in France on July 1, 1944, and saw their first action near Hautes Vents on July 13. They then participated in the Cobra breakout at the end of the month and were held in reserve during the Mortain battle in August. The unit crossed the River Seine on August 26, and reached the Siegfried Line in the vicinity of Eschweiler, Germany, by September 12th.
They were the first battalion that was converted to the M36 tank destroyer beginning September 30 and fought along the West Wall of the Siegfried Line until mid-December, when they transferred to the Ardennes after the start of the German offensive. The unit fought to reduce the Bulge in January, 1945, and joined the drive to Cologne in February and early March. They crossed the Rhine River, on March 23, near Honnef and participated in the envelopment of the Ruhr before moving east to Dessau by April 14.
Eddie received credit for each of the unit's campaigns of Normandy, Northern France, Rhineland, Ardennes-Alsace and Central Europe. He also received a Bronze Star and Purple Heart with Oak Leaf Cluster. He left the service at the rank of Sergeant.
After returning to the U.S., Eddie married the former Constance A. Miklinevicus who was the daughter of William Miklinevicus and Margaret Cereskiute. The couple had one son, Edward, and lived in the Prospect area of Connecticutt. Eddie worked at a number of companies, including the Anaconda American Brass Company, Industrial Overall, Clayton's Jewlery, A.W. Hayden Co., Wheeler Wire and the Sperry Co. In his spare time, Eddie was a Cub Scout Leader, an auxiliary policeman and active in the Democratic Party, including some period on their board of finance. After retirement, he and his wife traveled the country visiting friends and family.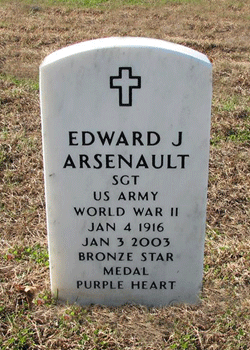 Eddie was also a member of VFW Post #5964 and the D.A.V. (Disabled American Veterans). Eddie passed away on January 3, 2003, and was buried in the State Veterans Cemetery in Middletown, Connecticut.
I want to thank Karen Bray, daughter of Eddie's friend Cliff O'Connor, for providing the photos and information for this tribute.