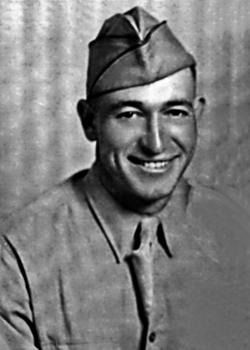 Walter J. Atamanczyk
Biography: Walter John Atamanczyk was born on October 2, 1916, in Jones, Oklahoma. He was the son of Peter Lewis Atamanczyk and Mary Lutomski. He attended grammar school but left to help on the family farm. He later attended night school in Harrah, Oklahoma, where he studied auto mechanics.
Service Time: Walter entered the service on September 30, 1941, at Oklahoma City. He was assigned to the 821st Tank Destroyer Battalion, which was activated at Camp Carson, Colorado. During his training he qualified as an expert with the Thompson sub-machine gun and as a marksman with the carbine.
Walter's friend, Sam G. Hawker, told him about a girl he knew, Yvonne Bringhurst, who was a sheet metal worker at a gun plant in Pocatello, Idaho. Walter and Yvonne began corresponding but didn't meet for some time. They finally met when Walter took leave and went to see her at the gun plant. During that same leave, the two were married on July 3, 1943. Yvonne had been born in Salt Lake City, Utah, and was the daughter of Lewis Bringhurst and Oral Blackburn.
Walter and the unit shipped out from the Boston port on April 4, 1944. They arrived in England April 17, and disembarked at Omaha Beach on June 26, with towed 3-inch guns. They initially supported the capture of St. Lô and the subsequent breakout. The unit entered Brittany in August and supported the capture of Brest by September 18. Moving east in late September to Holland, they conducted operations against the Siegfried Line in October near Aachen, Germany. The 821st transferred to Ubach, Germany, in November and supported the drive toward the Roer River.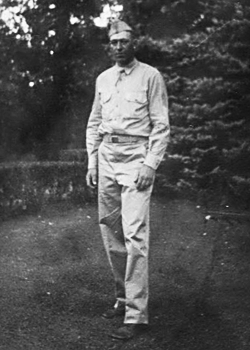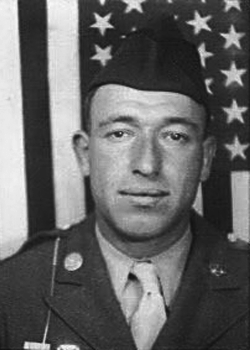 Their towed guns were replaced with M10's beginning in December and it was late February, 1945, when they crossed the Roer River. They were ordered to withdraw from the line during March but Company B still supported operations against the Ruhr Pocket in April. The rest of the battalion marched east to the Elbe River and took up occupation duties on April 27. Walter received credit for the unit's four campaigns including, Normandy, Northern France, Rhineland and Central Europe. He was awarded the American Defense medal, American Theater medal, EAME Medal, WWII Victory medal and the Good Conduct medal. He returned the the U.S. and left the service at Fort Douglas, Utah, on October 31, 1945. He held the rank of Technician 4th Grade.
Walter and Yvonne made their residence in Idaho Falls, Idaho, and had seven children. He worked as a mechanic and was very active in the LDS (Church of Jesus Christ of Latter-day Saints) Church. He held a number of position with the church including, Executive Secretary, Sunday School Superintendent, Home Teacher and Temple Officiator. He was also involved with the Home Extraction Program.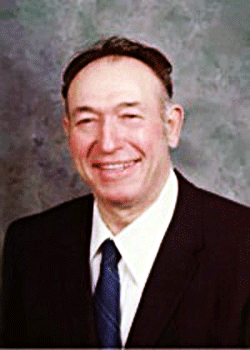 Walter was also a licensed pilot and enjoyed flying as well as playing the guitar and composing music. His children and extended family were his pride and joy. Yvonne passed away in 1980 and Walter later married Mildred Farrer Poulter. Walter passed away on February 17, 2005, at the age of 88. He was buried in the Springfield Cemetery, Bingham County, Idaho.
I want to thank Walter's daughter, Maralie and son John, for providing the materials for this tribute.