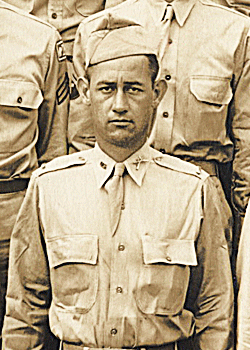 Noble A. Abney
Biography:  Noble Harold Abney was born on July 25, 1917, in Leesville, Louisiana. He was the son of William Allen Abney and Gladys Wallis and attended Leesville High School and Louisiana State University.
Service Time:  Noble entered the service on August 12, 1940, and trained as an infantry soldier serving in the 94th Antitank Battalion, which was later re-designated as the 894th Tank Destroyer Battalion. By Christmas of 1941, he was a 2nd Lt. and serving as a platoon leader in Company B. He would later be called on to command Company C, as a 1st Lt., as identified in a group photo taken on July 3, 1942.
The unit shipped out from the New York port on August 6, 1942, and arrived in England on the 17th. After 5 months of additional training and planning, they again boarded ships, arriving in North Africa on January 17, 1943. They were committed to battle on February 20, 1943, at Kasserine Pass in Tunisia and supported the capture of Bizerte. When the commanding officer left the unit, Noble, who was by this time a Major, briefly took command of the unit until October 30, 1943, when a replacement C.O. (Commanding Officer) took over.
The 894th then landed in Italy, in late October, 1943, and were located in the vicinity of Pignataro, in the Migniano sector, as of December. They were then transferred to the Anzio beachhead on January 25, 1944, where the battalion supported mainly British troops. Entering Rome in June, they crossed the Arno River at Pisa in September but were mired at Porretta Terme from late 1944 to early 1945. They were finally able to enter Genoa on April 27th.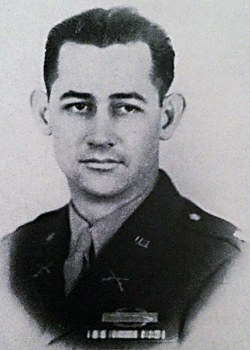 Noble received credit for campaigns of Tunisia, Naples-Foggia, Rome-Arno, the Apennines and the Po Valley. He received the Silver Star Medal, the Bronze Star, the EAME Medal, American Defense Medal, Italian War Merit Cross and Combat Infantryman's Badge. He left active duty on February 18, 1946, at Camp Shelby, Mississippi, an the rank of Lt. Colonel.
Noble married Dorothy Schmidt and the couple had three children, Bettye, Noble Jr. born in 1946 and Kay. Noble continued to serve in the Infantry Reserves, serving at one point as an Instructor at the U.S. Army Command and General Staff College at Fort Crockett. He later retired at the rank of full Colonel. He was an agent/partner in the wholesale produce firm of Abney & Clover Produce Company.  In his spare time, he was a Mason in the Harmony Lodge of Galveston, Texas, a Cub Master in the Cub Scouts and a little league coach.
He passed away on September 2, 2002, and was buried at Fort Sam Houston National Cemetery in San Antonio, Texas.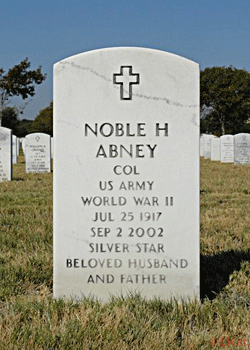 The b&w portrait is copyrighted 2015 by State~of~Grace on Find A Grave and the grave marker image is copyrighted 2011 by LKat on Find A Grave. Both are used by permission.