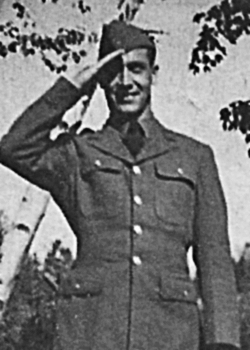 Laurence E. Aldrich
Biography: Laurence Elroy Aldrich was born on April 14, 1919, in Midland County, Michigan. He was the son of Bernard Henry Aldrich and Clarissa M. Hines. In January, 1941, he married the former Mabel Rose Willman who was from Merrill, Michigan, and was the daughter of Ernest and Matilda Willman. The couple had two daughters, Judy, born in 1941 and Sharon in 1942. The marriage ended that same year. Laurence was working at Dow Chemical during this time.
Service Time: Laurence entered the service on Augist 25, 1942, and was assigned to the 771st Tank Destroyer Battalion. On September 20, 1943, while on leave, he married the former Faye Iris Bohannon in Flint, Michigan. She was the daughter of Reed Leonard Bohannon and Ruby May Kelley.
The unit shipped out from the New York port on October 21, 1943, and arrived at Liverpool, England, on November 2, 1943. The 771st was chosen to train other TD personnel in the ETO Troop Replacement system. Only Company A moveed out and acted as an advanced unit to ship to France in late August. The rest of the battalion shipped out on September 15th and joined them on the mainland, equipped with M10s.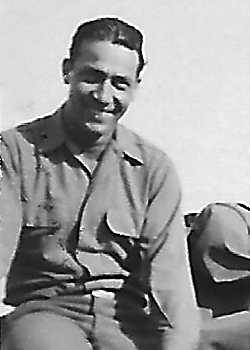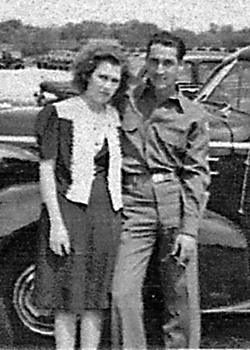 They entered combat with the 102nd Infantry Division against the Siegfried Line defenses along the Würm River on November 3rd. They participated in the drive to the Roer River and held defensive positions there during December before converting to the M36 in January, 1945. The 771st supported the drive toward the Rhine River in February and crossed beginning on March 31st. They joined the 102nd's drive across Germany to the Elbe River, reaching it on April 14th. They spent the remainder of the war helping to mop up bypassed pockets of resistance between the Rhine and the Elbe. The 771st received credit for the campaigns of Rhineland and Central Europe. Laurence spent some period of time assigned to Battery C of the 196th Field Artillery Battalion and left the service at the rank of Private First Class.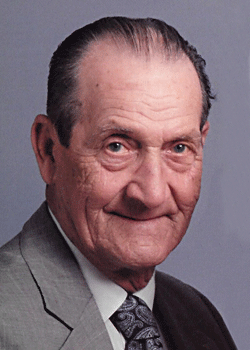 Laurence returned to Midland County and Dow Chemical. During this time, he also had his own auto body repair business. He left Dow after 14 years and had a bodyshop in Gladwin County. Laurence and Faye had five children, Patricia, Larry, Don, Nancy and Rick. He retired in 1988, and passed away on June 20, 2008. He was buried in the Billings Township Cemetery in Gladwin County, Michigan.
I want to thank Bruce Guy for providing information and a photo for this tribute. Thank you to gladwingal (L Heller) of Find-a-Grave for the grave marker photo, used by permission. Thanks also to Laurence's family for the additional information and photos of him.