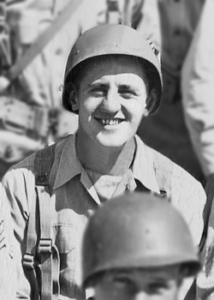 Alfred W. Adams
Biography:  Alfred William Adams was born on January 14, 1925, in Gloucester, New Jersey. He was the son of  Alfred Stokes Adams and Emma M. Smith and attended local schools through the 10th grade.
Prior to the war his draft card indicates that he was working in the Camden ship yards. He may have also had experience as a farm hand as identified by his enlistment record.
Service Time:  Alfred entered the service on May 7, 1943, at Camden, NJ. After receiving his basic training, he was assigned to the Headquarters Company of the 824th Tank Destroyer battalion. The unit was originally formed as a self-propelled battalion but was reorganized as a towed anti-tank gun battalion in May 1943. The unit trained within the U.S and shipped out from the New York port on on October 14, 1944. They arrived at Marseilles, France, on October 29, 1944, and were deployed near Sarrebourg on November 27th. Fighting around Bitche and against Siegfried Line defenses in December, they battled the German Nordwind offensive in January 1945.
The 824th converted to M18 tank destroyers in March and crossed the Rhine on the last day of the month. They joined the stiff fight at Heilbronn on April 8th and then advanced to the Austrian border by month's end. Their final actions involved clearing the Bavarian mountains and taking Innsbruck in early May. The unit received credit for the campaigns of Rhineland, Ardennes-Alsace and Central Europe.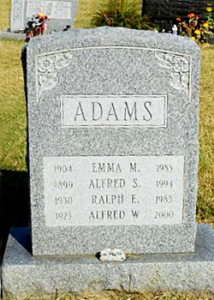 We know little about Alfred's life after the war but as of 1950, the census identifies that he was still living with his parents and was working for the Voorhees Township as a laborer. Alfred passed away on November 17, 2000, and was buried in the Evergreen Cemetery in Lumberton, New Jersey. Thank you to Alfred's niece, Shirley, for her assistance. Thank you also to Find A Grave contributor AngelTowes for use of the grave marker photo.