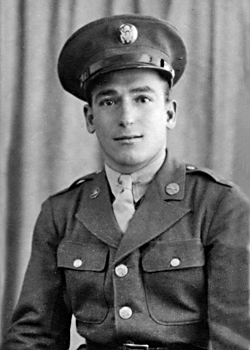 Robert L. Baruth
Biography: Robert L. Baruth, "Bob", was born on January 25, 1918, in New Rochelle, New York. He was one of three children (brother Arthur and sister Rose) born to John Baruth and Matilda Sophie Lustenberger. Bob graduated from Bryant High School in 1935, and he furthered his education at Delehanty Institute which specialized in courses for Civil Service careers. He was employed as a maintenance worker for the N.Y.C. Independent Subway System.
He also played hockey in the old Madison Square Garden facility with his amateur team, the Torpedos. His nickname on the team was "Bullet".
Service Time: Bob entered the service on September 30, 1941, at Fort Dix, New Jersey. He was initially assigned to Company C of the 28th Infantry Training Battalion and was with them at Camp Croft, South Carolina, for Thanksgiving in 1941. He is listed on the unit's menu/roster for the holiday meal.
28th Inf. Co. C – Thanksgiving Menu/Roster 1941
At some point, he was assigned to Headquarters Company of the 805th Tank Destroyer Battalion and trained with them before shipping out from the New York port on August 5, 1942. It was that same month that Bob's talents for boosting morale were noted in the Pennsylvania Guardsman Magazine. His impressions of well-known personalities kept the troops entertained, helping to build their morale and forget the worries of the day.
The unit arrived in England on the 18th, and after five months of additional training and preparations, they boarded ship and sailed for North Africa, arriving in Algiers on January 17, 1943. They were involved in actions at both Kasserine Pass and Gafsa with the M3 tank destroyer. The unit converted to using the towed 3-inch guns in October, 1943, and were the first to use them.
Letter Home – October 1942 (Letter transcribed by his daughter)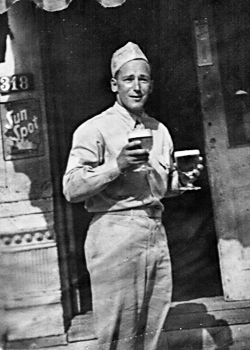 The 805th debarked in Italy on October 28th, at Bagnoli, and then shipped to the Anzio beachhead on March 12, 1944. They served largely as artillery, even after being re-equipped with M18 tank destroyers in June and August, and were the only unit in the Mediterranean Theater of Operations to use them. In October, Bob was hospitalized for at least three weeks for unknown injuries. He recieved care in the 24th General Hospital which was composed mainly of personnel from Tulane University. The hospital was located in Florence, Italy, during the period he was there. He shipped back to the U.S. in February of 1945, arriving on March 12th.
Bob received the EAME Medal with credit for the three campaigns of Tunisia, Naples-Foggia and Rome-Arno. He also received the American Defense Service Medal and others. He left the service on August 20, 1945, at the Fort Dix, NJ, Separation Center at the rank of Private First Class. His discharge indicates that he had been transferred to C Company at some point.
Now back in the U.S., Bob went back to work for the City of New York. On April 6, 1947, he married the former Mary M. Brown who was born in Philadelphia, Pennsylvania. She was the daughter of David Brown and Jennie Donnelly and the new couple made their home in New York City. Bob and Mary had two daughters, Kathleen and Mary Ellen. When he wasn't working, he enjoyed all types of sports but, as mentioned before, he was especially fond of ice hockey. He was also active in a number of churches and organizations, including the Holy Name Society in Queens, NY, at the St. Pascals Baylon Church and the Church of the Incarnation. He was a member of the Queens Chapter of Retired Veterans Association, the American Legion and was the Democratic Chairman for the Jamaica Estates in Queens, NY.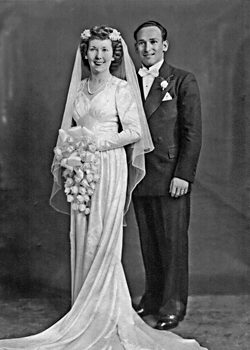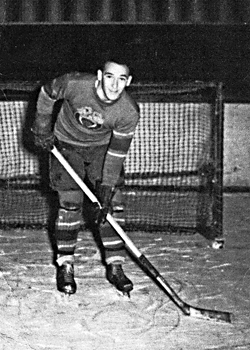 He retired after 35 years with the City of New York, and then took a job as a clerk with St. Johns University. While there, he started a Hockey Club Team and became a mentor to many of the youth. The following tribute was written about Bob just prior to his retirement from coaching.
"With the season quickly drawing to a close, its time to stop for a moment and pay tribute to the man who has been the driving force behond the SJU Hockey Club since its beginning three seasons ago. This man is none other than the General Manager "Bullet" Bob Baruth, who will be retiring at the end of the season. Over the past few seasons Bob has done everything but score goals for the club, and his presence will be sorely missed. Finding a replacement for Bob will be no easy task; it will, in fact, take several people to do the jobs that were performed superbly by Bob. Thus, I would like to take this opportunity to speak for the team and thank Bob for all that he has done for us over the years; we'll sure miss him when he's gone. Thanks Bob."
Retirement Article – The Torch Magazine, May 16, 1973
Bob passed away on February 5, 1986, and was buried in the Calverton National Cemetery in NY. I want to thank Bob's daughter, Kathleen, for providing the information and materials for this tribute.