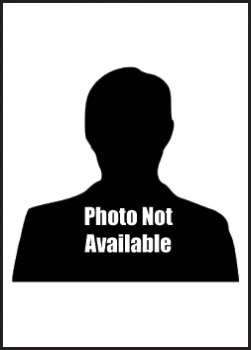 Milford W. Blanks
Biography: Milford William Blanks was born on July 11, 1918, in Iron County, Missouri. He was the son of William Henry Blanks and Bertie Brandum and attended local schools through the grammar levels. Prior to the war, he worked as a cook.
Service Time: Milford entered the service on December 4, 1940, at the Jefferson Barracks, which is just south of St. Louis, MO. On January 8, 1942, while on leave from the Army, Milford married the former Willie Mae Williams, who was born in Georgia and was the daughter of Marie Williams. It is believed that Willie's father had passed away when she was quite young.
Milford was assigned to the 827th Tank Destroyer Battalion when it was formed on March 15, 1942, at Camp Forrest, Tennessee. He was on the roster of initial 77 enlisted men and 10 officers from the 4th Cavalry Brigade that was stationed at Fort Riley, Kansas. The 827th was one of several battalions with African-American enlisted personnel and largely white officers.
The men trained at Camp Forrest until September 2, 1942, when they moved to Camp Hood, Texas, for 12 weeks of tactical training at the AUTC (Advanced Unit Training Center). In December, after they completed their 12 weeks of training, they were permanently assigned to the TDC (Tank Destroyer Center) and became one of several "School Troop Battalions". It would be February, 1943, until the unit was formally assigned there.
On June 4th, the 827th was reorganized as a towed battalion, but they were reorganized again a month later on July 13th, as a self-propelled battalion. On October 2nd, the battalion left Camp Hood and arrived at the Desert Training Center in California two days later. They remained there until February 1944, when they were assigned to Fort Huachuca, Arizona.
They received their orders for overseas service and shipped out from the New York port on November 3, 1944, arriving in France on the 13th. They moved to the Seventh Army's sector east of the Vosges at the height of the German Nordwind offensive in January, 1945. The unit was equipped with M18 tank destroyers and fought to eliminate the Colmar Pocket in late January and early February. They were transferred to the Communications Zone for security duties in March and subsequently undertook other rear-area functions.
At some point, Milford was transferred to Company F of the 374th Engineering GS (General Service) Regiment, which was a unit of the Corps of Engineers and made up of African-American soldiers. The 374th shipped back to the U.S. in August of 1945. The 827th received credit for campaigns of the Rhineland, Ardennes-Alsace and Central Europe. Milford left the service at the rank of Technician 4th Grade.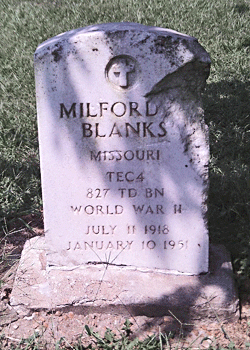 Milford returned home and all that we know is that he passed away on January 10, 1951, at the age of 32. His death certificate identifies that he died of a heart attack. He was buried in the Parkview Cemetery in Ironton, MO. Coincidentally, both his parents died that same year, his mother in September and his father in November, from strokes.
I want to thank Rick Walker for the grave marker photo and information regarding Milford. I also want to thank Wilma Cofer, of the Iron County Historical Society, for providing additional information.