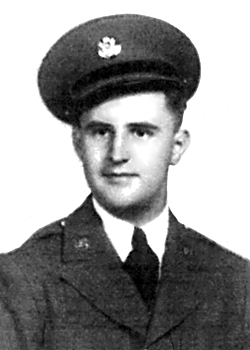 Henry L. Brumbach
Biography: Henry Linwood Brumbach was born on October 20, 1916, in Philadelphia, Pennsylvania. He was the son of Ira Ammon Brumbach and Florence Anna Emenecker. Following the death of his father from pneumonia in 1918, Henry, his sister and mother lived with Florence's father. His enlistment record indicates he completed one year of high school and was working as a salesman prior to entering the military.
Service Time: Henry entered the Army on July 9, 1941, at Fort George G. Meade, Maryland. He was eventually assigned to 2nd Platoon, Company A, of the 813th Tank Destroyer Battalion. The 813th had been activated on December 15, 1941, at Fort Bragg, North Carolina, and completed all of their training at that location.
They shipped out from the New York port on August 5, 1942, and arrived in England on the 17th. They would ship out for North Africa, and arrive there at the beginning of 1943, where they participated in the Tunisia Campaign, and worked with British and French forces as well as the U.S. 34th Infantry Division. Part of the battalion went to Sicily, Italy, with the 3rd I.D. and the 13th Field Artillery Brigade. In the summer of 1943, a portion of the battalion participated in the invasion of Italy.
In November of that same year, they set sail for England and began training for the invasion of France. They landed in Normandy at Utah Beach on June 27, 1944, where they were attached to the 79th Infantry Division. Joining the drive to Le Mans and then moving north to Alencon at the Falaise Gap, they were the first armored unit to cross the Seine River.
On August 23, 1944, Henry's 2nd Platoon was in position approximately 2 miles east of Limay, France. At about 1000 hours, they began receiving heavy enemy tank and small arms fire from the front and rear of their position. The company commander ordered them to withdraw to another position. As they were pulling out, two of their M-10 tank destroyers were hit by enemy fire, killing Sgt. Henry L. Brumbach.
Sgt Brumbach was awarded the Good Conduct, WWII Victory and EAME medals with credit for the campaigns of Tunisia, Rome-Arno, Normandy and Northern France. He posthumously received a Purple Heart medal.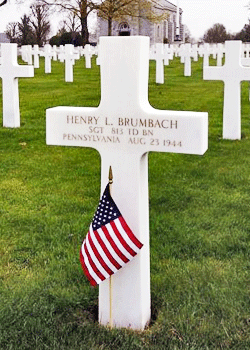 Sgt. Brumbach was buried in the Brittany American Cemetery and Memorial, Plot B, Row 16, Grave 4, Saint-James, Departemente de la Manche, Basse-Normandie, France. We would like to thank Sgt. Brumbach for making the ultimate sacrifice for his country. We would also like to thank the personnel at the Brittany American Cemetery for their work to Honor the fallen.