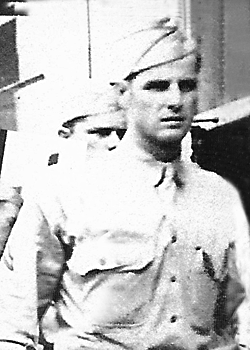 John B. Burgess, Jr.
Biography: John Baylus Burgess, Jr. was born on June 28, 1917, in Salem, South Carolina. He was the son of John Baylus Burgess Sr. and Abbie Alexander and attended the Tammassee-Salem School through the 7th grade. He worked as a farm hand and later for the Civilian Conservation Corps.
Service Time: John entered the service on November 8, 1941, at Fort Jackson, SC, and after his basic training was assigned to the Pioneer Company of the 609th Tank Destroyer Battalion. The Pioneer Co. would later become their Reconnaissance Co.
The unit shipped out from the New York port on August 11, 1944, and arrived in England on the 12th. Just over a month later they boarded transports and landed at Utah Beach on September, 20th. They were equipped with M18 tank destroyers and initially went into Corps Reserve, on the 28th, east of Moutier, France, where crews fired artillery missions through October.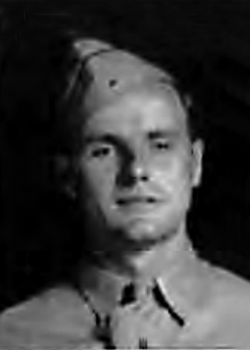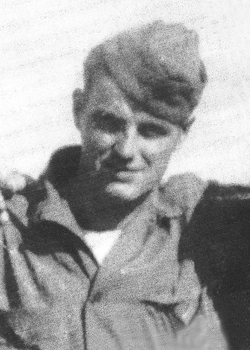 The photo above left is from the unit's 1942 Yearbook while they were stationed at Fort Bragg, North Carolina.
The unit then joined operations against the Siegfried Line in November and early December. Most of Company C moved to Bastogne on December 18th with 10th Armored Division while the remainder of battalion fought along the Sauer River. The entire battalion then fought to eliminate the Bulge in January, 1945. They were deployed to the Saar-Moselle triangle in February and participated in the capture of Trier in March. The 609th supported the attack south and east out of the Mannheim bridgehead across the Rhine River in late March and April, reaching southern Bavaria, near Füssen, by the end of the month.
John received credit for three of the unit's campaigns including the Ardennes, Rhineland and Central Europe. He also received the American Defense, American Theater and Good Conduct Medals. He left the service at the rank of Corporal.
Once back in the U.S., he married the former Ruby Neil Alexander on December 3, 1947. The couple would have three sons, Gary, born in 1947, Charles in 1949, and Rick in 1953. John worked as a logger and in his spare time, he enjoyed fishing, camping, traveling, farming and making wine.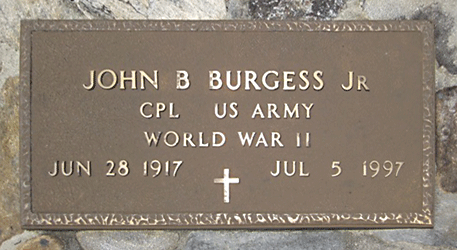 John passed away on July 5, 1997, and was buried in the Whitmire Methodist Church Cemetery in Salem, SC. I want to thank John's grandson, Jason, for providing the information and photos for this tribute. I also want to thank Find A Grave contributor, Pamela Whitaker, for the grave marker photo.