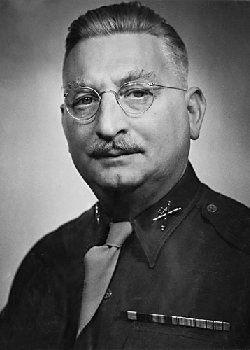 Clinton S. Berrien
Biography: Clinton Steele Berrien was born on July 21, 1897, in Plainfield, New Jersey. He is the son of William Edward Berrien and Emily Jane Steele and graduated from Plainfield High School in 1917.
He had actually joined the New Jersey National Guard on June 19, 1916, serving as a Private. He later served as Sergeant in Troop D, 1st Cavalry in the NJNG and then Battery F, 110th Field Artillery on August 31, 1918, as well as the 112th Field Artillery.
Service Time: Clinton entered the service during WWI and served in the Mexican Border strife conflict. He was chosen for Officer Candidate School and attended from July 25, 1917 to August 30, 1918. On the 31st, he became a temporary 2nd Lieutenant in the Field Artillery. On July 1, 1920, he was assigned to the Fifth Field Artillery, stationed at Fort Bragg, North Carolina and was promoted to 1st Lt. in the Regular Army that same day.
The Courier-Journal identifies that on September 25, 1920, Lt. Clinton S. Berrien married the former Alix Semple Truman. At the time, he was assigned to the Second Field Artillery and was stationed at Camp Knox, Kentucky. Alix was the daughter of Harry Clarence Truman and Harriet Semple. Rev. Dr. Peyton Hoge performed the ceremony at the home of the bride's mother.
He was sent to Field Artillery School at Fort Knox for the Basic Course and after completing his studies, on June 15, 1922, he was assigned to 7th Field Artillery at Fort Ethan Allen, Vermont and to temporary duty with summer training camp at Camp Devens, Massachusetts.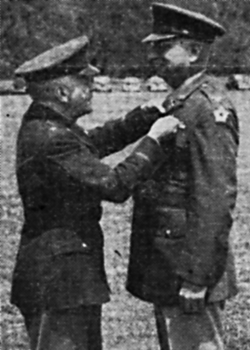 He served in numerous posts throughout the U.S. and in the Gatun, Canal Zone with the First Battalion of the 4th Field Artillery in 1925. In 1933, he was sent to Artillery School again for their Advanced Course and then was transferred to Camp Greenbrier in Rupert, West Virginia, on August 15, 1933. While serving with the 3rd Field Artillery, he was one of three Artillery officers to receive an award for outstanding CCC (Civilian Conservation Corps) Company for Fifth Corps Area – Company No. 1538 in Pineville WY. He was promoted to the rank of Captain that same year. He also served with the 1st Battalion, 3rd Field Artillery at Fort Benjamin Harrison, Indiana. He attended the Quarter Master School in 1935.
He was advanced to the rank of Major, in June, 1940, and attended the General Staff School that same year. For some time, he held the post of Commandant of the R.O.T.C. unit at Xavier University as well as Professor of Military Science and Tactics. He was appointed to the temporary rank of Lieutenant Colonel on Sept 16, 1941.
During WWII, Berrien served in the South Pacific but returned to the U.S. in November, 1942, for a short visit with his family. He was promoted to full Colonel in the Army and was ordered to Fort Hood, Texas, to command the 5th Tank Destroyer Group, a position he only held briefly before being sent to attend the Army & Navy War College in Newport Rhode Island on May 14, 1943. He was then recalled to the South Pacific and was assigned to General McArthur's staff. In the spring of 1944, he was called on to serve as Beach Commander, during the landings of the Hollandia, New Guinea, port. The action was code-named "Operation Reckless" and US troops were greatly successful in taking the port, which gave them a new line of defense for the area. On May 9, 1945, Berrien was awarded the Bronze Star for "Bravery and Resourcefulness during the Invasion" by Major General James L. Collins.
On October 4, 1944, Col. Berrien began his new job as Professor of Military Science and Tactics at Culver Military Academy. He also served as a Senior Instructor for their R.O.T.C. program. He took over the post from Col. B.F. Hoge, who was assigned by the War Department to Fortress Monroe in Virginia. Berrien is quoted as telling his students "A well-trained mind is essential in the Army".
He retired from the military in 1948. after 30 years of service. He then lived in the Crawfordsville area of Indiana. Clinton and his wife would have a daughter, Alix, born in 1928, and a second daughter Barbara born in 1931.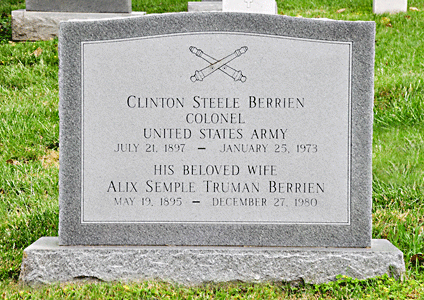 Clinton passed away on January 25, 1973, and was buried in the Arlington National Cemetery in Arlington, Virginia.
I want to thank Find A Grave contributor, John Evans, for providing the grave maker photo. The image of Clinton receiving his Bronze Star is from the May 9, 1945, edition of the Culver Citizen newspaper and is posted on the Culver-Union Township Public Library website, located here.