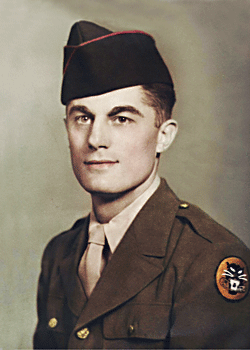 Ermes A. Bottachiari
Biography: Ermes Anthony Bottachiari, "Ermie", was born on April 14, 1921, in Schenectady, New York. He was the son of Francesco Bottachiari and Amelia V. DeAngelus, and born just five months after his parents had immigrated from the Marche Region of Italy in 1920. Ermie graduated from Nott Terrace High School, in Schenectady, and while in schoo he excelled as an athlete in track and field, specifically as a sprinter. The family would grow to include a sister, Elma, and brother, Armond.
After graduating, Ermie worked as a machinist for the Searchlight Division of General Electric, also in Schenectady.
Service Time: Ermie entered the Army on September 8, 1943, at Camp Upton, NY. It was during his basic training that he qualified as a Sharpshooter with the carbine on October, 1943. He trained as a tank destroyer soldier at various military facilities within the U.S., including Camp Hood, Texas.
Ermie shipped to England on March 5, 1944, and arrived on the 21st. It is unclear when Ermie was assigned to Company B of the 603rd Tank Destroyer Battalion but it may have been while the unit was stationed in England. The 603rd had shipped out from the New York port on April 11, 1944, and arrived at Cannock, England, on April 18th. After some additional training and preparations, they boarded transports and landed at Utah Beach on July 21st and 22nd. A V-Mail sent by Ermie from "somewhere in the British Isles" identifies that he was assigned to Company B of a TD unit.
V-Mail to Fonda family – April 6, 1944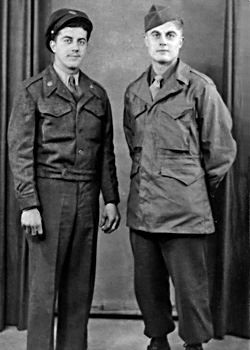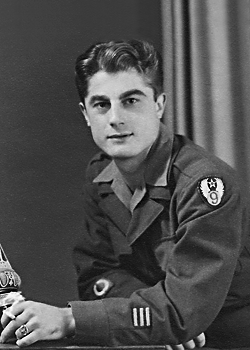 At some point, while overseas, Ermie was able to meet up with his brother Armond, who served in the Medical Corps during the war. You can see their photo above left.
The 603rd entered combat in late July, 1944, during the Cobra breakout. They traveled west through Brittany and on to Brest before turning toward Lorient and east to the Moselle River. In November, Ermie was shot through his left hand while pulling down one of the driver's hatches. He was evacuated to a hospital in England for treatment. A newspaper article about the incident also mentions that Ermie had qualified as a Expert with the machine gun, probably during training, before landing in France.
Schenectady NY Gazette – February 17, 1945
The 603rd went on to support the push to the Saar River and Sarreguemines before shifting to Bastogne and the Bulge counterattack. They then fought through the Siegfried line in February of 1945, reaching the Rhine in March. After being assigned to the Third Army, they crossed the river and attacked through the Fulda Gap, later helping to liberate the Buchenwald Prison Camp.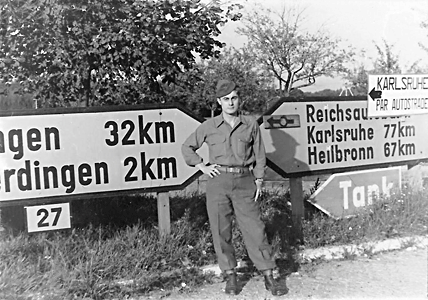 We are not sure when or if Ermie returned to the 603rd but we do know that he was ultimately assigned to the 921st Engineering Squadron in Büttelborn, Germany. The 921st was part of the 503rd Air Service Group of the 9th Army Air Corps and Ermie spent his last few months, stationed at the airfield, in Schweinfurt, Germany.
Clues to Ermie's whereabouts during the war lie in a pair of wooden shoes, a souvenir he brought home from the war. Handwritten on the shoes are his nicknames. Also handwritten is "Tank Destroyer and "France" on one shoe, and "Air Corp" and "England" on the other. The Tank Destroyer shoe names French locations: Utah Beach, Brest, Orléan, Saint Avold, Paris, Dijon, Caen, Saint-Lô, Sens, Nancy, Rennes, Toul, Saint-Max, Lorient, Le Harve, Le Bourget, Le Mans, Lunéville, Troyes, Bayeux, Épinal, Avranches, Le Couronne. The Air Corp shoe names British locations: Birmingham, Plymouth, Taunton, Swansea, Lytham, Cardiff, Blackpool, Newport, London, Exeter, Torquay, Minehead, Barnstable, Ilfracombe, Braunton, Treborough, Southhampton, Leeds, Bristol, Preston. One can only surmise he was in each of these places while overseas.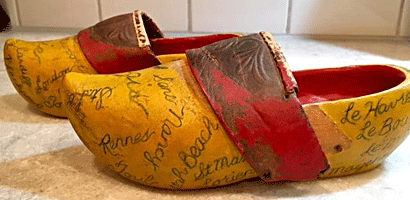 Ermie received credit for four campaigns including Normandy, Northern France, Rhineland and Central Europe and received the Purple Heart in recognition of wounds he suffered. He was awarded the EAME, the WWII Victory, American Service and the Good Conduct Medals. He also received the Distinguished Unit Badge, which may indicate he spent some period of time with a separate unit. Ermie shipped home on December 11th, arriving on the 31st and was honorably discharged at Fort Dix, New Jersey, on January 7, 1946, at the rank of Private.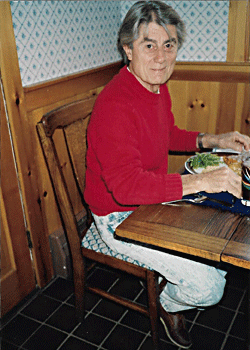 Ermie returned home to Schenectady and went back to work for General Electric. On January 20, 1946, he married the former Marilyn Vedder who was the daughter of Leonard V. Vedder and Gladys G. Fishbaugh. In 1954, Ermes changed his name to Ermes A. Barrie and the new couple would have four children, Hugh, Jill, Brooke and Beth. Ermie continued to work for GE but in 1962, he was transferred to their Liverpool, NY, plant near Syracuse, working as a purchasing agent. The family was living in Camillus. After working for GE for 36 years, he retired and moved to Liverpool and opened an Italian restaurant.
In his spare time, Ermie enjoyed bowling and playing golf, winning trophies for both. He also played poker and loved to watch sporting events, including harness races. He did woodworking and was an excellent cook. He was a member of the VFW as well. Ermie enjoyed spending time with his family and friends. His children remember him as a kind, generous, loving father you could always depend on.
Ermie passed away on September 6, 1994, and was buried in the Riverview Cemetery in Baldwinsville, NY. I would like to thank Ermie's daughter, Jill, for providing the information and photos for this tribute.