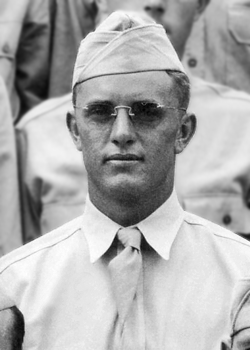 Leon Bush
Biography: Leon Bush was born on March 26, 1917, in Miller County, Georgia, the son of Burrell Benjamin Bush and Beulah Calhoun Hodges. He attended school through the 10th grade and by April 22, 1940, he was living with his aunt and uncle in Miami and working as a plasterer. His employer was listed as "Larson Builder (Nothrup Lumber Co)". At some point, he became engaged to Ruth E. Englund, a bookkeeper living in Miami.
When he registered for the draft on October 16, 1940, he was described as standing 6 feet tall and weighing 185 lbs., with black hair and blue eyes.
Service Time: After he was drafted, Bush was inducted into the U.S. Army at Camp Blanding, Florida on April 11, 1941. By July 3, 1942, he had been promoted to Technician 5th grade and was a member of Company "C" of the 894th Tank Destroyer Battalion by July 3, 1942. He went overseas to England with the unit in August 1942 and arrived in North Africa in January 1943.
On April 3, 1943, during the Battle of El Guettar in Tunisia, T/5 Bush was one of four men selected for what his company commander, 1st Lieutenant Baker D. Newton, later referred to as "a particularly hazardous job". According to an account quoted in The Miami Herald on November 20, 1943, Bush:
"was sent with a portable radio and three men to establish a post from which to observe [an] enemy artillery battery which was subjecting his company to heavy fire. Despite intense artillery, mortar and small arms fire, Bush maintained his post on a bare ridge without cover and relayed the sendings of the observer by radio to his company commander who in turn passed them on to a friendly artillery unit which fired on the enemy battery and silenced it."
According to the article, T/5 Bush "was ordered to come down but asked his company commander to be allowed to stay at his post and direct the firing, knowing it was almost certain death." He was struck in the head by fragments from a mortar round and killed.
Miami Bush Herald Article – November 20, 1943
T/5 Bush was posthumously awarded the Silver Star Medal, which was given to his father by Major General William Bryden on October 9, 1943. In 1948, T/5 Bush was buried at Union Missionary Baptist Church Cemetery in Colquitt, Georgia.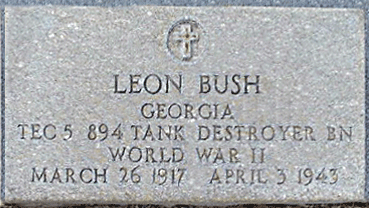 Thank you to Lowell Silverman for providing the research and materials for this tribute as well as the text. Thank you also to Find A Grave contributor, dbc, for the use of the grave marker image.