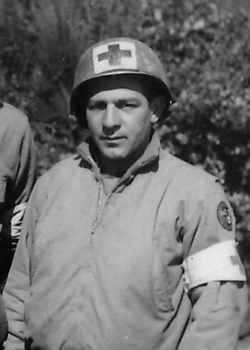 Michael Balistrella
Biography: Dr. Michael Balistrella was born on November 16, 1911, in DeRidder, Louisiana. He was the son of Salvatore Balistrella and Vincenza Carrubba and graduated from DeRidder High School in 1929.
He furthered his education at Louisiana College and after graduation, he attended Tulane and Loyola Medical Schools to receive his degree in Dentistry. He was active in sports and was the captain of the tennis team.
He made his residence in Shreveport in 1936, and set up a dental practice there. In September, 1937, he married Domenica "Mamie" R. Taormina and the couple would have a daughter, Virginia.

Service Time: He would serve in the Army Medical Corps and was assigned to the 773rd Tank Destroyer Battalion. He traveled with them to England but was reassigned to HQ Co. of the 6th Tank Destroyer Group where he was one of two dental officers. The other dentist was Cpt. Robert Arendt who had originally served with the 628th TD Bn.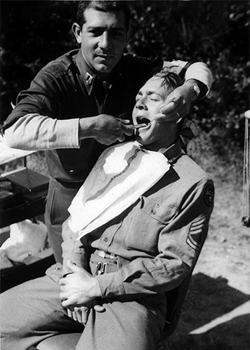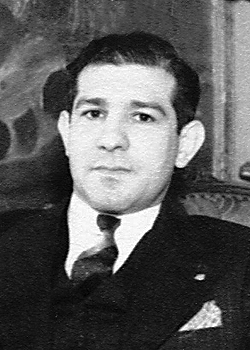 The unit shipped to France and landed on July 25, 1944. They acted as part of Task Force "A" of the VIII Corps of Third Army. Beginning on September 5th, the unit supported XIII Corps, Ninth Army, as their Anti-Tank section. They moved into Belgium on Oct. 24, 1944, and then into Holland on Nov. 6, 1944. They finally moved into Germany on March 16, 1945.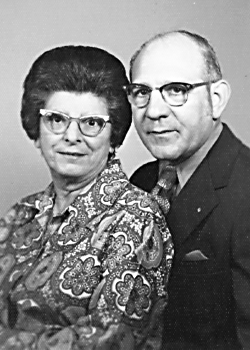 The 6th received credit for the campaigns of Normandy, Northern France, Rhineland and Central Europe. He remained with them until May of 1945, where After Action reports state that he was on DS (Detached Service) 625 Med Clr Co. He shipped home from LeHavre, France, aboard the SS Waycross Victory, arriving in New York on November 25th. He is listed as being one of 696 men of the 49th Engineer Combat Battalion coming home aboard the ship. He left the service at the rank of Captain.

The photo at left shows Michael and Mamie in 1972.
Michael returned to his dental practice and served the Shreveport area until he retired in 1982. He and Mamie have a second daughter Carolyn. They were married for 49 years until her death in 1986. Michael later married the former Sybil Frances Cobb Saffel.
In his spare time, Michael was a member of the Knights of Columbus, the Progressive Men's Club, the Dental Association, Sons of Italy, the American Legion and Elks Club. He was active in Hospice and was also a member of St. John's Cathedral where he served as an usher and Eucharistic minister. Michael had also attended a few of the reunions of the 773rd TD Bn.
Michael passed away on May 6, 2006, and was buried in the Centuries Memorial Park in Shreveport, LA. I want to thank Michael's daughter Carolyn for her assistance with this tribute.