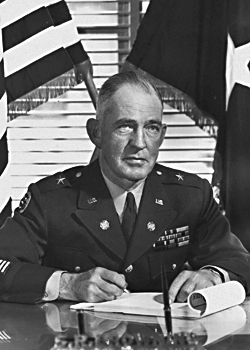 Samuel R. Browning
Biography: Samuel Roberts Browning "Bob" was born on September 16, 1906, in West Point, New York. He was the son of William Stacy Browning and Helen Jones. His father was a West Point graduate and military officer so the family traveled from assignment to assignment and Bob attended many different schools. He was also the grandson of Samuel Roberts Jones, a West point graduate from 1867.
He began his college education, in 1926, at the University of Vermont and State Agricultural College in their Civil Engineering program. He received a Senatorial Nomination to West Point Military Academy, from Vermont Senator, Frank L. Greene and began classes there that same year.
While at West Point, he excelled both academically and physically. His yearbook indicates he participated in baseball and choir for three years, was class secretary and a member of First Class Club and Election committee. He was also a pistol and rifle marksman as well as a machine gun sharpshooter. He graduated in 1928, and received his commission as a Second Lieutenant in the Combat Engineers.
That same year, he married the former Bess Sydnor. He continued his education at the University of California, Berkeley, receiving a degree in Civil Engineering in 1931.
Service Time: We don't know much about Bob's early military career but we do know that in 1933, he was still a 2nd Lt., serving with the Army Corps of Engineers. Beginning in 1934, he became an instructor at West Point, in their Department of Mathematics. He was relieved from that position in July, 1934, and was still serving with the Army Engineers when he was promoted to Captain, on June 9, 1938. As of August 10th, he was serving in the Fourth Corps area,. As part of the National Defense Program, on October 1, 1939, Captain Browning was transferred to the Field Artillery. He was one of over 500 Engineering Officers transferred to other units, probably in preparation for a possible upcoming war.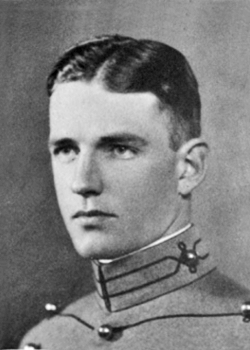 He served briefly as the commanding officer of the 5th Tank Destroyer Group, from September 24th to November 23rd, 1942. He was then given command of the 4th Tank Destroyer Group and remained with the unit throughout its service overseas. The unit had been activated at Camp Hood, Texas, on Sep. 1, 1942.
They moved to Fort Lewis, Washington, on February 15, 1943, as part of IX Corps. Shortly after that, they transferred to IV Corps on March 15, 1943, and then into III Corps on January 15, 1944. The unit was prepared for shipment at Camp Kilmer, New Jersey, on April 10th, and then shipped from the New York Port of Embarkation on the 21st. The unit arriving in England on the 26th, and after some additional preparations, they shipped to France, landing on July 19th. The 4th supported the XX Corps and acted as their Anti-Tank Section. They moved into Germany on December 6th and took on occupational duties at the end of the war. They shipped back to the U.S., arriving at the Boston Port of Embarkation on July 27th.
The 4th Group received credit for the campaigns of Normandy, Northern France, Rhineland, Ardennes-Alsace and Central Europe. After the war, Bob served as Chief of Transportation for the European Command until 1947, and then was assigned to the 6th Army as their Training Officer from 1948 to 1951.
Throughout his military career, Bob would serve in a number of positions and locations, including the Schofield Barracks in Hawaii, at West Point, in Savanna, Georgia, Fort Sam Houston, in Texas, the Farben Building in Frankfurt, Germany, the Presidio of San Francisco, Camp Zama in Japan and the Pentagon in Washington, D.C. In 1952 and 1953, he was notably the Assistant Chief of Transportation and also Chief, Joint Land Transportation Agency of the Department of Defense Transportation Corps.
He then became the Training Officer, assigned to Headquarters Army Forces, Far East and the 8th Army from 1953–1955. He served as the Deputy Chief of Transportation for the Department of the Army, until retiring in 1958, at the rank of Major General. He had served during the Korean and Vietnam wars and receive a number of awards, including the Legion of Merit and the Army Distinguished Service Medal. His citation reads as follows:
The President of the United States of America, authorized by Act of Congress July 9, 1918, takes pleasure in presenting the Army Distinguished Service Medal to Major General Samuel Roberts Browning (ASN: 0-17081), United States Army, for exceptionally meritorious and distinguished services to the Government of the United States, in duties of great responsibility from 1 November 1944 to 31 July 1958. [This award supersedes so much of Department of the Army General Orders 46, 16 October 1956, as pertains to the previous award of the Legion of Merit to General Browning for meritorious service during the period 22 August 1953 to 1 November 1955.
Bob and Bess would have two daughters, Patricia, born in 1930, and Jacqueline in 1935. After retiring, Bob earned a Master of Science Degree from the University of Arizona in 1960, and became a Professor of Numerical Analysis, at the University of Arizona. The Tucson Daily Citizen, from August 27, 1960, reports that he was working with the Air Force and the Imperial College in London to find hail in clouds by means of radar; Bob used the University's Computer Center's equipment to perform the calculations. He served as a Research Associate from 1972 till 1985.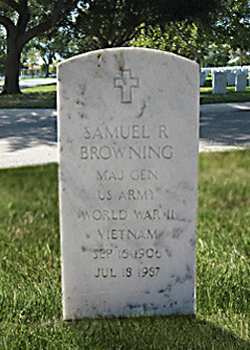 In his spare time, he enjoyed playing golf, playing the organ and piano, reading, and working with computers. Bob passed away on July 18, 1987, and was buried at the Fort Sam Houston National Cemetery in San Antonio, TX. I want to thank Bob's daughter, Jackie, for providing the main photo and information for this tribute. Thank you also to E-Yearbook for the photo of him while a cadet at West Point. The photo is used by permission of Digital Data Online, Inc. The grave marker photo is © 2009-2019 CynC on Find A Grave and used with permission.