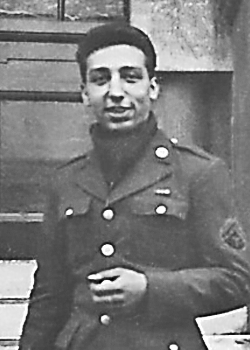 Frank A. Bergonzi
Biography: Frank A. Bergonzi was born on August 25, 1921, in Glastonbury, Connecticut. He was the son of Francesco "Frank" Bergonzi and Rosa Lucia Forlini. Frank Sr. had been born in New York but Rosa was originally from Italy. Frank Sr. and his parents moved back to Italy and he grew up there and married Rosa there. Frank Sr. came back to the U.S. before sending for his wife and their first daughter, Maria (Mary).
The couple had more children, Domenico (Mike), Domenica (Margaret), Amelia (Millie), Luigi (Louis) and Frank. By the time of Frank's birth, the family had moved to Glastonbury but later returned to NYC where Frank grew up.
Frank Jr. loved music and would feed nickels into the Juke Box all day long. He had a shoe-shine box and shined shoes for a nickle to help the family. He attended school through the 11th grade but opted to drop out and get a job. His enlistment record identifies his occupation before the war as a semiskilled routeman, which is a person who is responsible for making sales or deliveries on an assigned route. He also joined the New York National Guard on February 29, 1940, specifically in HQ Company of the 106th Infantry.
Service Time: Frank entered the Army at Buffalo, New York, on January 27, 1941. He was assigned to Company B of the 771st Tank Destroyer Battalion which shipped out from the New York port on October 21, 1943 and arrived at Liverpool, England on November 2nd. The 771st was chosen to train other TD personnel in the ETO Troop Replacement system and company A would move out and act as an advanced unit to ship to France in late August. The rest of the battalion would ship out on September 15th and join them on the mainland, equipped with M10s.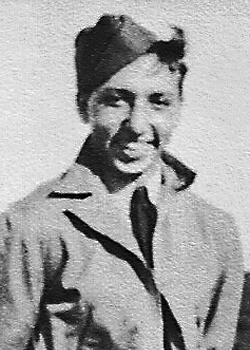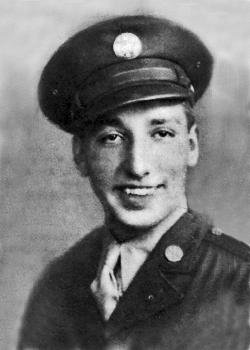 The photo on left shows Frank in 1940, while serving in the National Guard. The photo on right was taken after his entry into the Army, at some point during his training within the U.S.
The 771st entered combat with the 102nd Infantry Division against the Siegfried Line defenses along the Würm River on November 3, 1944. They participated in the drive to the Roer River and held defensive positions there during December. The unit converted to M36 tank destroyers in January 1945.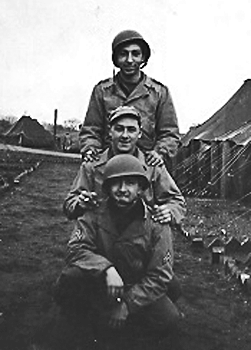 In the photo on left, you can see Frank standing in the back with an unidentified man in the middle and Frank's close friend, Cpl. John J. Cuneo in front. John and Frank grew up together in the Little Italy area of New York City and served together in the National Guard.
Later in the month, portions of the unit were used for direct fire, in preparation for Operation Swift. They were positioned on a ridge near Lindern, Germany and fired at buildings on the opposite bank of the Roer river. They also used .50 caliber machine guns for covering fire, sweeping the east bank of the river. The After Action Reports identify that this was the fifth time they were used for a direct fire mission. On January 22nd, all companies were moved into proper positions for jump-off of Operation Swift, in the vicinity of Lindern and Linnich, Germany. It was on this same date that Corporal Grade Frank A. Bergonzi was killed in action.
Although we are not certain of the exact circumstances of Frank's death, his hospital admission file states that his death was accidental, due to a blast or explosion and was considered non-battle and not directly related to the enemy. At the time, the unit was attached to the 102nd Infantry Division or the Ozark Diviision and was up against German minefields, concrete and steel pillboxes and other almost impregnable fortifications, which would be difficult to overcome. Engineers with the unit prepared thousands of pounds of TNT and nitro-starch into satchel charges to combat the obstacles. In a 102nd Infantry Division history, published by the Infantry Journal in 1947, it states that:
"a terrific explosion destroyed all the double bangalore torpedoes and satchel charges stored in a house in Gereonsweiler on the afternoon of 23 January. The building was entirely demolished and many men were buried under the debris. Fortunately casualties were very few in proportion to the violence of the explosion but it appeared for a while that the 406th Infantry Regiment would have to attack the fortification in its zone of action with organic weapons only."
Although the date is off by one day, all the other facts seem to match the incident that would take the life of Frank and at least five other men from Company B, which were also identified as being killed in non-battle circumstances. It was part of a tank destroyer soldier's training, to create and to use explosive charges for the demolition of pillboxes and other enemy threats. It is our belief that Frank and the other men killed were in or near the building when it exploded. The names of the other men are as follows, Cpl. John J. Cuneo, mentioned earlier in this tribute, Pvt. Rosario J. Maniscalco, T5 Anthony Muscente, T5 John G. Pinto and Pvt. Frank M. Reese.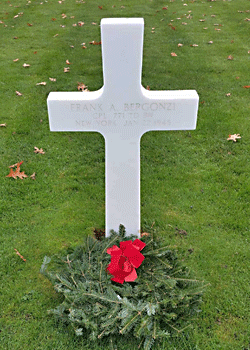 Frank was initially buried in a temporary cemetery at Margraten, Netherlands, Plot M, Row 9, Grave 217. It is the family's understanding that Frank's mother decided to let him rest with his friends and fellow servicemen. Frank was later moved to his final place of rest in Plot E, Row 4, Grave 20.
I want to thank Davey van Overmeeren who lives in the Netherlands and has adopted Frank's grave through their Foundation for Adopting Graves. Davey also provided photos and information for this tribute. I also want to that Frank's nephew Louis, for providing additional information and photos. Thank you to Frank's nephew John for his assistance.